Life-saving operations
Penn State Hershey Medical Center teams up with local family for its first-ever double live organ transplant
Upon meeting the Bradbury family, you immediately notice the love they have for each other. After hearing how they came together to save the life of one of their own, you can admire their courage.
A relatively close-knit family from the Hazelton area, they became a Penn State Hershey Medical Center first through a simultaneous, dual living donor organ transplant on a single person.
On March 15, 2011, 60-year old Timothy Bradbury received a kidney from his wife, Mary Ellen, and nearly half of the liver from his youngest son, James.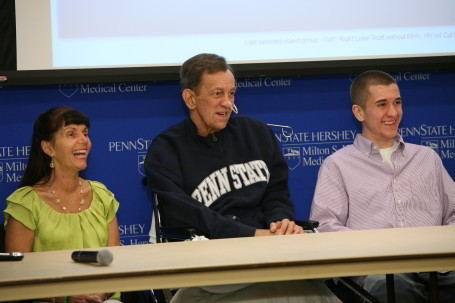 In the continental United States, the transplant of a liver and kidney from different living donors to a single recipient has been performed just 10 other times since 1987.
Penn State Hershey Medical Center is certified by the United Network for Organ Sharing (UNOS) for live donor liver transplantation. Dr. Zakiyah Kadry leads an interdisciplinary team of transplant surgeons, anesthesiologists, hepatologists, pre- and post-transplant coordinators, nurses, social workers, transplant pharmacists, and nutritionists who are all actively involved in transplant patients' care.
Beginning at 7:30 a.m. on March 15, Dr. Kadry and team began by removing 50-60 percent of James Bradbury's liver. Once the liver was visualized and assessed as being medically suitable, Timothy Bradbury was brought into the recipient room around 8:30a.m.
Dr. Riaz Ali Shah then removed the diseased liver from Timothy, and the donated liver was put in place by Dr. Kadry and Dr. Tadahiro Uemura. During the new liver procedure, a surgical team led by Dr. Randy Haluck, laparoscopically removed one of Mary Ellen Bradbury's kidneys in the next room.
Once the liver procedure was complete, Timothy was prepped for the removal of his diseased kidney. Dr. Shah then implanted the new kidney from Mary Ellen, with Dr. Kadry.
More than 20 surgeons, nurses, anesthesiologists and technicians assisted in making the dual transplant a success. "It was an honor to work with this team and the Bradbury family," Dr. Haluck said.
James Bradbury's liver donation took about 6 hours, while Mary Ellen Bradbury's kidney donation took less than 2 hours. Both recovered well and were released from the hospital within a week.
"The family was a great network," Dr. Kadry said. "They were very supportive before, during and after."
The entire procedure lasted over 18 hours. It was the culmination of nearly two years of progressive illness.
When Timothy Bradbury began having stomach problems two years ago, he was diagnosed with a congenital, or present at birth, liver disease known as biliary atresia, which basically means that his bile ducts were blocked.
The disease typically presents symptoms shortly after birth, but this was not the case for Timothy. The team at the Medical Center was amazed that he made it into middle age without needing prior procedures.
The biliary atresia caused a build-up of bile (a substance that helps digest fat) in the liver tissue, which led to secondary biliary cirrhosis.
Symptoms of secondary biliary cirrhosis often include itchy skin, fatigue, and jaundice (yellowing of the eyes and skin). During the early stages of secondary biliary cirrhosis, a person may not even know that their liver is being damaged.
"His overall clinical condition had been deteriorating significantly, with severe fluid accumulation in the belly and extreme muscle wasting from a poor nutritional status secondary to his liver disease," Kadry said.
The extent of Timothy's liver damage also caused his kidneys to fail. The progression of renal failure and liver failure led Dr. Nasrollah Ghahramini to recommend a combined liver and kidney transplant.
Receiving a simultaneous liver and kidney decreases the mortality rate over just doing the liver alone. Kidney failure can often be resolved with a liver transplant, but the complications and progression of Timothy's disease brought doctors to the conclusion that a combined liver and kidney transplant was necessary.
According to Dr. Ghahramini, "There was a low likelihood that he would stay off dialysis after a liver transplant."
Timothy initially started out on a waiting list for cadaver organs, but his risk of death while waiting for a standard donor was very high. "He was so sick that he may not have survived waiting for a deceased donor liver. He had jaundice, and was very malnourished from poor appetite due to fluid build-up in his abdomen. He was deteriorating before our eyes. His family wanted to save him, and the solution was a live donor for both liver and kidney," Kadry said.
Several members of Timothy Bradbury's family offered to donate their organs to save him. Workups were done on those family members, but it was his wife Mary Ellen and son James that came back as very good candidates. The other candidates had underlying health issues that made it not possible for them to donate.
Penn State Hershey Medical Center has a rigorous multidisciplinary selection process to ensure the absolute safety of the donor and recipient. The Medical Center's live donor liver transplant program is focused on specific categories of patients on the waiting list that have a higher-than-average risk of being unable to receive a liver transplant in a timely manner, such as blood group O recipients or patients with recurrent significant complications of their liver disease that place them at risk without improving their chances of receiving a liver transplant on the current liver allocation system.
The Medical Center requires that a living liver donor must have an emotional bond with the recipient. If live donation is a possibility for the recipient, they are given information that explains the process and risks to take back to family and friends to see if anyone is interested in being a live donor. If interested, they must call in to the Medical Center to express their wish to donate.
"A donor shouldn't feel like they are being pursued," Kadry said.
The potential donor is assessed by a donor advocate to make sure there has been no coercion. The donor advocate team also reviews the potential donor to ensure the procedure will be medically safe, and technically possible. "For the liver, a size match is important," Kadry explained. "You can't have a four-foot woman donate to a six-foot man."
A potential donor is assessed separately from the transplant team. One team takes care of the donor and the other takes care of the recipient.
This prevents the donor team from being influenced by how ill the recipient is. The assessment of the potential donor is purely based on what is acceptable for the overall continued health of the donor.
At the Medical Center, live donation is offered to anyone currently on a transplant waiting list. "The main impact of live donation is that it offers an option to our patients," Kadry said. "We want our patients to have a broader option based on the lack of deceased donors out there."
All live donors must be over age 18, give consent, and have an understanding of the procedure.
"Only about 30 percent of candidates who present are actually able to donate," Kadry said. "A purely healthy person gets the psychological component of helping someone who is dying."
Timothy Bradbury's new liver and kidney are functioning well, and that was the main objective for the family, as well as the team at the Medical Center. "Because the liver disease was congenital, there is no chance of recurrence. He is fully cured." said Dr. Ian Schreibman.
The liver is the only organ in the body that can regenerate to normal function and size within approximately one to two months; it took about 5 weeks for James Bradbury's liver to return to full size. "This was a great opportunity to show how much I love my dad and prove who I was as a person," James said. "I would do it again to save my dad."
"We hope the word gets out and others realize the importance of organ donation," Mary Ellen said.
In the United States, the demand for donor organs continues to exceed that of supply. Currently there are more than 16,000 patients registered on the UNOS waiting list for a liver organ and only 6,000 to 6,500 liver transplants are being performed annually. In Pennsylvania, nearly 1,500 candidates are on the liver transplant waiting list. According to the UNOS database, between 1,500 and 2,000 candidates on the national liver transplant waiting list die each year while waiting for a liver organ. While living liver donor numbers are limited as donor safety is the primary concern, the procedure provides at least 200 to 300 additional liver transplants annually.
"It's very important for people to realize this is a life saving operation. We are very careful about the assessment of live donors," Kadry said. "We're very stringent, and only about 30 percent can actually donate."
Adds Mary Ellen Bradbury, "The biggest risk is not taking it at all, and we hope others will do the same for their family or friend. Their kindness will never be forgotten."
– By Jen Baker
If you're having trouble accessing this content, or would like it in another format, please email the Penn State College of Medicine web department.