MD/PhD student's glioblastoma research funded by National Cancer Institute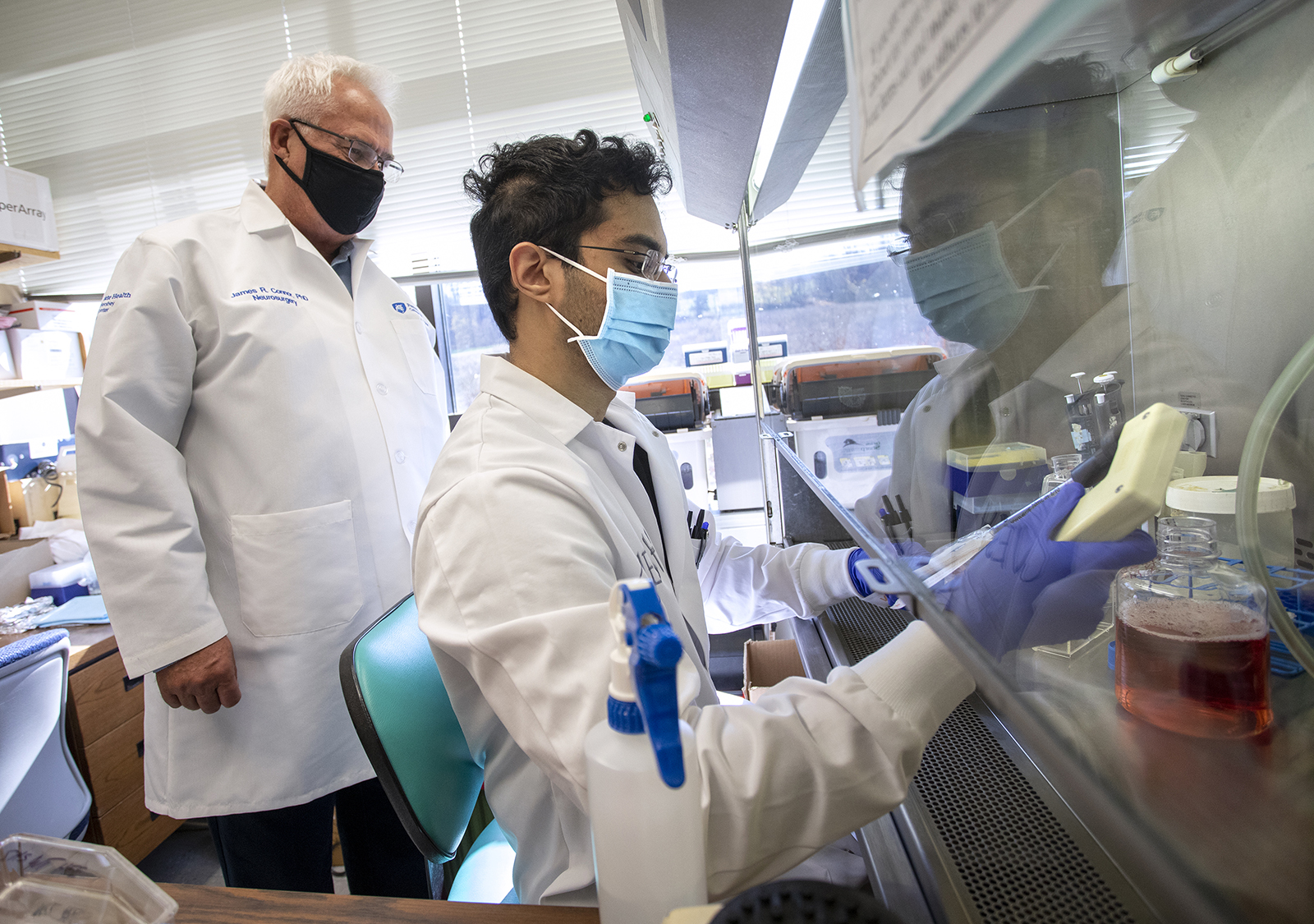 Penn State College of Medicine MD/PhD trainee Ganesh Shenoy, a third-year graduate student in the lab of Dr. James Connor, recently received funding by the National Cancer Institute for his F30 project Understanding the Role of Macrophages and Iron in the Tumor Microenvironment.
Glioblastoma continues to be one of most difficult-to-treat cancers facing modern medicine. Even with an intensive treatment regimen of maximal surgical resection, radiation therapy and chemotherapy, the majority of patients diagnosed with glioblastoma will die within five years of their diagnosis. These dismal outcomes clearly demonstrate that there is much room for improvement of our current treatment approaches. In recent years, cancer researchers have discovered that certain solid tumors, such as glioblastoma, generate a tumor microenvironment that helps cancer cells resist treatment. This tumor microenvironment is thought to contribute to treatment resistance in multiple ways such as providing cancer cells with essential nutrients, helping cancer cells evade immune detection and allowing cancer cells to invade into neighboring healthy tissues.
The focus of this project is to study how our current treatment approaches with radiation and chemotherapy impact iron metabolism within the glioblastoma tumor microenvironment. Iron is an essential nutrient for cancer cells and little is known regarding how treatment alters iron metabolism within the tumor microenvironment. Uncovering how iron metabolism is altered in response to treatment could provide us with novel, targetable mechanisms of treatment resistance that could potentially improve outcomes among these patients.
Shenoy, whose clinical interest is oncology, has an opportunity via the MD/PhD specific clinical exposure program to precept with a clinical faculty member in a specialty or sub-specialty of his choice. Shenoy's current clinical preceptor is Dr. Patrick Ma.
Shenoy started in the MD/PhD program in 2016 and will complete the final two years of his medical school training after defending his thesis in biomedical sciences.
If you're having trouble accessing this content, or would like it in another format, please email the Penn State College of Medicine web department.