MD student group places 2nd in national case competition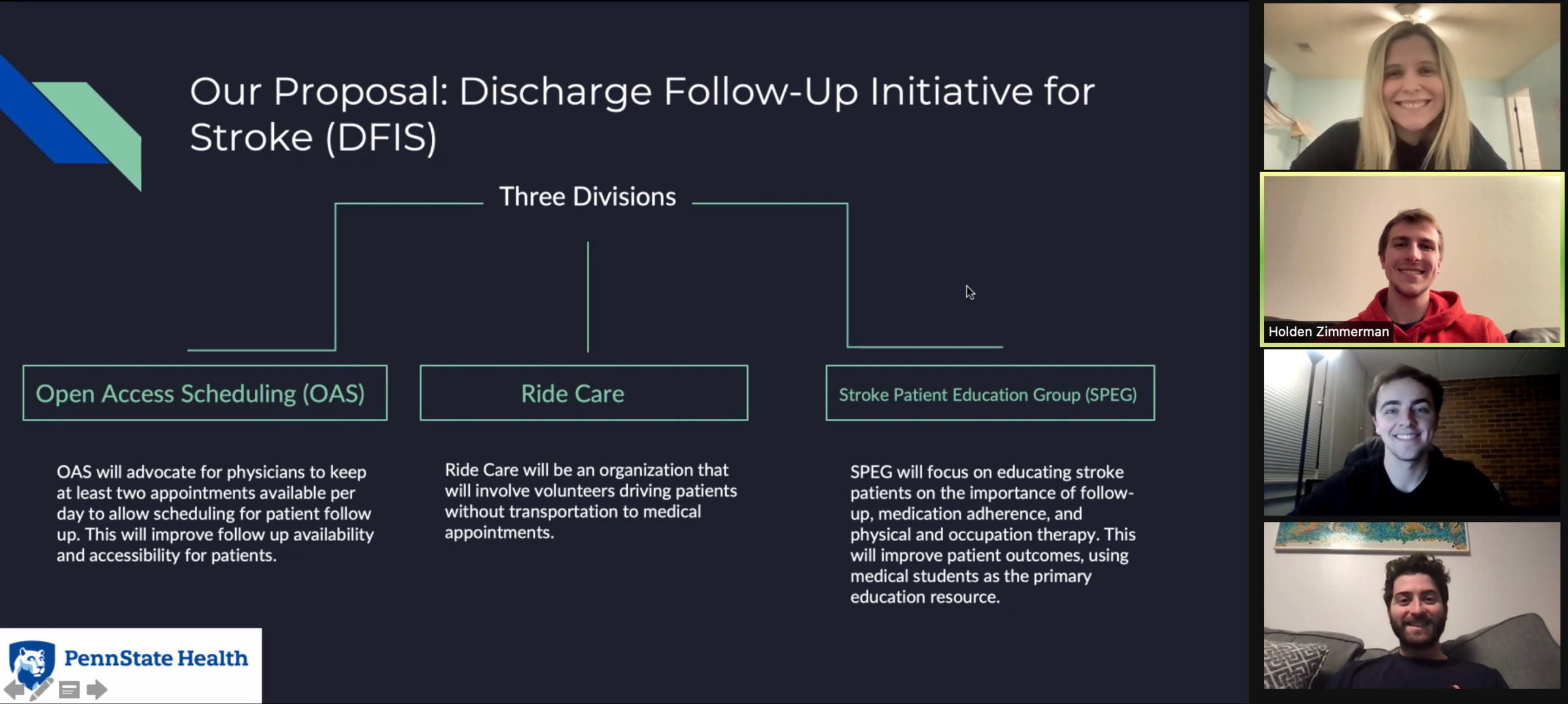 A team of medical students at Penn State College of Medicine took second place in a national case competition hosted by Augusta University Medical College of Georgia (MCG).
Danny Glickman, Hannah Short, Benjamin Walters and Holden Zimmerman, all second-year students at the Hershey campus, qualified for the virtual 2022 MCG National Value-based Care Competition by competing in a "Hackathon" hosted at the College of Medicine in January.
The Hackathon was organized by the College's High-Value Care (HVC) Student Interest Group, a cross-campus collaboration that brings medical students together to think collectively about how value-based care can impact everyday patient treatment.
During the College competition, Penn State teams examined a real patient case and identified the most prominent problems within that case. Teams then "hacked" one of those issues by developing creative recommendations on how to fix it, and their solutions were evaluated by a panel of Penn State faculty judges.
Short and her teammates' winning Hackathon project, the Discharge Follow-up Initiative for Stroke (DFIS), proposed a three-pronged approach to patient follow-up, post-stroke care. DFIS focused on strategies to provide free transportation services to patients in need, promoted the education of risk factors and tools necessary to make healthy changes in patients at risk for stroke, and promoted open-access scheduling.
"The patient in the original case suffered unnecessary harm due to barriers she experienced in the health care system," Short explained. "The HVC competition challenged students to identify those barriers and work towards building initiatives to combat those disparities in their local communities."
High-value care seeks to use resources efficiently to achieve the best possible results for patients. Medical students at the College learn about this aspect of patient care in the health systems science track, a major part of the College's strategic plan.
"The HVC group provides students with the skills and opportunities necessary to become physicians who treat their patients beyond their symptoms, taking into account factors such as socioeconomic status, health literacy and other disparities that impact their care," Short said.
The Penn State team submitted their DFIS project for the national finals, hosted by MCG, in August for virtual judging and received their second-place award notice on Nov. 8.
"We have a highly motivated HVC group, expertly mentored by Dr. Brian McGillen, that has been doing a phenomenal job of creating opportunities for students to participate in HVC work," said Dr. Ami DeWaters, interim director of the College's Health Systems Science Office. "We are so happy to see students taking system principles and translating them into work that can meaningfully help patients and providers."
Presenting in a national case competition was especially rewarding, Short said, because it gave the team the opportunity to interact with other medical students across the country who are similarly passionate about HVC-centered medicine.
"We have grown tremendously through our own work and through reading other students' work," she said. "We cannot thank the College enough for the skillset it has provided us through courses such as Health Systems, in addition to the supportive faculty that worked with us throughout this project."
If you're having trouble accessing this content, or would like it in another format, please email the Penn State College of Medicine web department.