Change agents: MD student group focuses on improving patient care, enhancing health care outcomes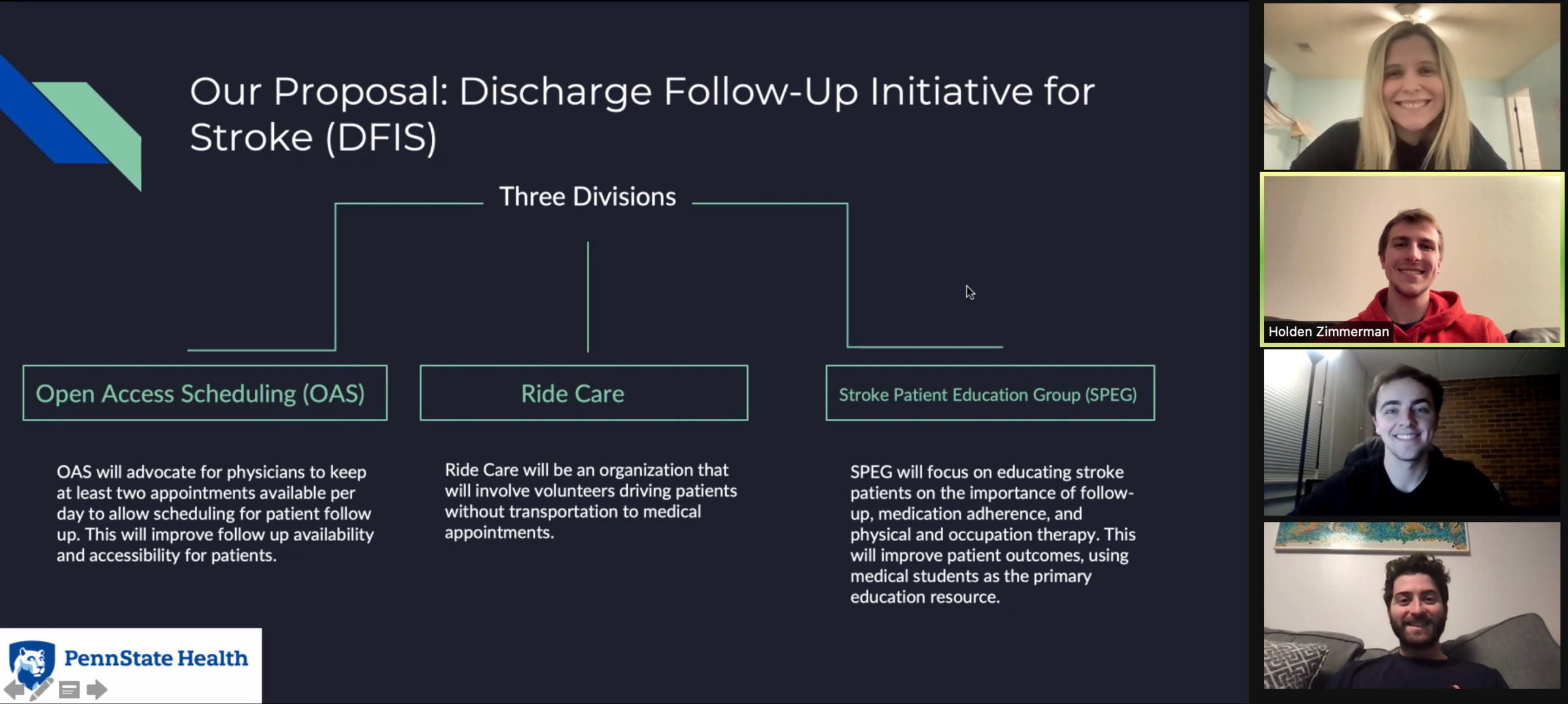 Want to know about procedures, facts and what makes the human body well again? That's what the medical school classroom is for.
Want to know the intangibles that help a patient really feel cared for and listened to? The intangibles you don't find in books? That comes from experience.
"Medical school teaches fact," said Dr. Brian McGillen, physician and associate professor of medicine at Penn State College of Medicine, "but devotes little time to examining how fact-based decisions intersect with patients and their lives."
"You can memorize every fact and scientific principle of medicine, but if you can't understand where patients are and the problems they face that might limit your ability to treat them, you're not going to be very effective," McGillen said.
That's why medical students at the College of Medicine formed a cross-campus interest group dedicated to improving patient care and outcomes in the real world.
The High-Value Care (HVC) Student Interest Group came together after each of its members participated in the Choosing Wisely STARS (Students and Trainees Advocating for Resource Stewardship) program, a national effort uniting medical schools across the country that works to inspire grassroots, student-led efforts to advance value-based care in medical education.
High-value care is a principle of health systems science that seeks to use resources efficiently, provide the best care possible and achieve the best possible results for patients.
"High-value care and health systems science," McGillen said, "are the cores of an intuitive, innovative approach to patient care."
"Through STARS, we were really able to learn more about the tools and skills we can use in order to start making change as medical students," said Lauren Pomerantz, a second-year medical student at the University Park (UP) campus and one of the HVC group's founding members. "It's one thing to wait until you're out of medical school, residency, fellowships and beyond to start affecting policies at an institutional level, but why wait that long if we can start making change now?"
After returning from STARS last year, Lisa Yoder, a third-year medical student at Hershey, reached out to Dr. Ami DeWaters, physician and director of Health Systems Education, for support in getting a group together that included students from both Hershey and UP.
Several other recent STARS participants came on board and McGillen joined as the faculty advisor.
"We are two sister groups that share the same constitution and mission statement," said Noor Kawmi, a third-year medical student and leader of the group's UP branch. "We also have the same mentor. We share the same goals. Since the two campuses are far apart, we hold our separate events, but students from either campus are always invited to join any event held by either sister group."
The group had one mission in mind: to bring other medical students together to think collectively about how value-based care can impact everyday patient treatment. Medical students examine this aspect of patient care in the health systems science track at the College of Medicine – a major part of the College's strategic plan – but the HVC group sought to take the curriculum one step further.
"We wanted to provide students with the opportunity to engage in HVC thinking as it applies to real clinical situations because as future clinicians, that's what we're going to have to do on a daily basis," said Garrett Thompson, a second-year medical student and president of the Hershey campus HVC group.
Some of the problems with inefficient or low-quality patient care are entrenched in the medical culture, he said. The HVC group could be an agent of a major cultural shift that starts small and spreads widely as medical students progress in their careers – turning high-value care into the standard, not just a suggestion.
"It's all about training learners to become leaders in implementing high-value care and health systems science in their future health care facilities," McGillen said.
"Hacking" health care
With the HVC group officially established, they decided to host a "Hackathon," a competition in which medical students across Penn State formed teams to examine a real patient case, identify the most prominent problems within that case (as well as their underlying causes), and analyze one of those identified issues. Teams then "hacked" that issue by developing creative recommendations for how to fix it and recorded their poster presentations for a panel of Penn State faculty judges to review.
The HVC group hosted their inaugural Hackathon in 2021, naming second-year Hershey campus medical students Madison Hearn and Gitanjali Bhushan as the winners, and the group just wrapped up their second event in December. Participation grew from a couple of teams and about 10 participants to six teams and more than 25 students.
Benjamin Walters, Hannah Short, Holden Zimmerman and Danny Glickman, all first-year medical students at Hershey, were selected as the winners during the first week of January 2022 for their innovative, three-pronged approach to patient follow-up, post-stroke care. Their "hacks" included an open-access scheduling system, coordination of transportation to follow-up care, and stroke-specific education for patients and families. This year's Hackathon was organized as part of Augusta Medical College of Georgia's (MCG) national case competition, so the winning team will go on to present their solutions at the MCG's nationwide finals.
"We thought that the Hackathon was a fantastic way to apply our skills learned in our health systems class in a real-world, clinically relevant situation. It allowed us to use our prior medical knowledge and life experiences to synthesize a solution that would solve the issue at hand," Glickman said. "While the event was challenging, we found that we learned a lot about high-value care that we hope to take with us in our career as physicians."
The HVC group will plan other yearly events and activities that encourage engagement and give students the chance to participate in real-time initiatives that promote high-value care in patient interactions.
"At this point in medical school, we're still doing a lot of observing and assisting, but this group is a place where we can really think creatively and try to make a difference," said Kira Garry, a second-year medical student at UP.
The group is hopeful that membership and awareness will grow even more because HVC could bring down health care costs by delivering it more efficiently, said Zachary Corey, a second-year medical student at the College of Medicine.
"The purpose of becoming better versed in high-value care," Garry added, "is to not only treat patients more efficiently but to become their advocates and push for impactful improvements in the industry."
"We know health care is changing and we want to be part of making it better for patients and physicians," she said. "A lot of that is about just being aware of what's going on in the world, in health care and how we can be change agents in the future."
Anyone interested in learning more about the HVC group can email Thompson at gthompson3@pennstatehealth.psu.edu.
If you're having trouble accessing this content, or would like it in another format, please email the Penn State College of Medicine web department.