Ongoing successful partnership between HVI and the I.O. Silver Foundation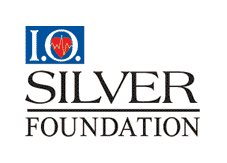 Larry Silver, M.D., could have spent the past 13 years of his retirement like many people do—relaxing, playing golf, traveling. But fortunately for regional heart patients, he has instead been a tireless advocate and community partner for the Penn State Hershey Heart and Vascular Institute (HVI) through his work with the I.O. Silver Foundation.
"HVI is the biggest thing in my life now," Silver says. "I never dreamed of retiring and when I did, I missed the feeling of being needed. The foundation fills a little part of that, plus I'm astounded by the advances the team makes in heart disease treatment."
Established in 1996 following the death of Larry's father, I.O., the foundation has a simple mission of supporting quality cardiac care in central Pennsylvania while honoring the life of its namesake. Through its partnership with HVI, including the proceeds of the 2012 event, the I.O. Silver Foundation has donated more than $1,000,000 toward clinical, educational, and research initiatives at Penn State Hershey.
I.O. Silver was born in Steelton in 1909. He met his wife while he was an undergraduate at Franklin & Marshall College in Lancaster and went on to study at Jefferson Medical College. He later served two years in the United States Army before setting up his practice back home in Steelton.
"My father was, in the minds of many people, a real gem," Larry says. "He was loved by many and he influenced many people's lives." As a family physician, I.O. had a community practice that allowed him to make house calls, deliver babies, and perform minor surgeries while his wife Miriam raised their three children in an apartment above his office. "He was a tremendous family man and involved us with everything. He was extremely popular in the area and he loved the town." His impact on Steelton is still evident as the name Silver graces both the high school library and Silver Manor, a neighborhood in town. In addition to his practice, he was Steelton High School's athletic team physician for 39 years. He went on to found a semi-professional basketball team, the Harrisburg Caps, and was a well-rounded individual who always gave back to the community.
After a lifetime spent caring for his community of Steelton, I.O. Silver died of cardiovascular disease in 1994.
Like I.O. Silver himself, the foundation that bears his name had humble beginnings. Its first fundraising event in 1996 was a 5K run through Harrisburg Area Community College. The race soon included a bike ride and moved to downtown Harrisburg. A 10K from Hershey stadium and motorcycle rides were added later. The foundation's main event is now an annual fashion show, called "Hearts in Style and Song," held at the Hotel Hershey, which receives backing from both local and corporate sponsors such as Wells Fargo Advisors.
The Foundation's previous generosity funded the I.O. Silver Cardiovascular Specialties Clinic at Penn State Hershey, which brings physicians together from adult cardiology, cardiothoracic surgery, and vascular surgery. This unique practice gives patients access to advanced wellness and intervention programs.
In December 2011, the Heart and Vascular Institute recognized the I.O. Silver Foundation's ongoing philanthropy with a ribbon cutting ceremony for the Miriam Silver Conference Room. Miriam was instrumental in helping her family make a difference in the area.
"She was a devoted and dedicated wife and mother," Larry Silver says. "She allowed my father to be I.O."
The couple's devotion to improving the quality of life for others is felt at Penn State Hershey today.
"We strive to improve cardiac care for the people of central Pennsylvania and to train the next group of people who will be out there taking care of patients," says Larry Sinoway, M.D., director of the Heart and Vascular Institute. "The cost of these things is very difficult to manage with standard types of remuneration. Without philanthropists and people like Larry, this can't happen."
"We are very appreciative of the support the I.O. Silver Foundation has provided and we look forward to an exciting future where we can learn new things, take care of more patients, and improve the quality of the lives that we take care of," Sinoway says.
"I think that the HVI physicians are doing a fantastic job at Penn State," Larry Silver says. "Their work is quite amazing, and some people in central Pennsylvania don't realize what a gem they have right here."
This year's fashion show will be held October 12 at the Hotel Hershey with vendors and a silent auction starting at 10:00 a.m., followed by the show at 1:00 p.m.
If you're having trouble accessing this content, or would like it in another format, please email the Penn State College of Medicine web department.