Taking advantage of opportunities pays off
Matthew Silvis, M.D. '02 has accomplished a great deal in a short amount of time; following his achievements as a medical student at Penn State College of Medicine and during his residency and fellowship at Wake Forest, Silvis returned to Penn State Hershey Medical Center in 2007 and was named director of primary care sports medicine in 2009. In recognition of his accomplishments Silvis was recently awarded the Alumni Achievement Award, given by the Penn State Alumni Association, identifying outstanding alumni.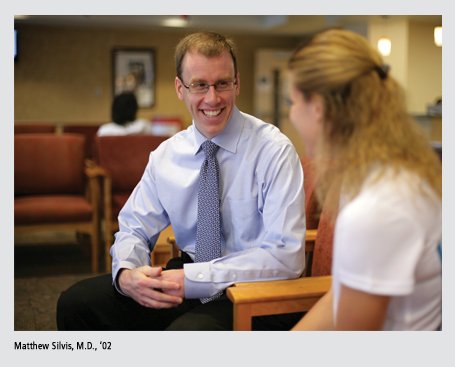 His motivation to help both families and athletes has been a driving force in Silvis' active career.
"I love my work." Silvis said. "I love working in family medicine and I certainly love working in sports medicine."
In addition to his duties at the Medical Center, Silvis works with the Hershey Bears and Harrisburg Senators as a team physician. In working with the Bears, Silvis supervised a medical student in a research study on abdominal and pelvic MRI abnormalities in the hockey players, the first part of which was recently presented at the American Academy of Orthopedic Surgeons and the American Orthopedic Society for Sports Medicine in New Orleans.
"It's a nice opportunity to work with a defined population of high-level athletes. It's been a great organization to work with clinically and from a research standpoint," said Silvis.
His interest in sports and family medicine has allowed Silvis to get the best of both worlds. While he enjoys working with professional athletes like the Bears, his interest in family medicine gives him a chance to care for recreational athletes and to help them get back to the sports they love.
One of the most profound experiences in Silvis' medical career was his residency training at Wake Forest. As part of the program, he spent a month in Alaska during 2003 working with the native population in an area where little formal medical care was provided. This in turn led him to another month of similar work in Guatemala in 2004 and a full year in rural Wyoming during 2005-06. It was these experiences that Silvis says opened his eyes to health care and only validated his current medical interests.
"Growing up we always had a doctor to go see. There was never any question that you couldn't get to a hospital, see a doctor, or have basic medical care provided," said Silvis. "It's a really good feeling to know that you're filling some type of void. It's very satisfying work."
Silvis says that as director of primary care sports medicine, he has high aspirations for the program. He would like to see it grow over the next few years to encompass a lot of clinical and grassroots work in high schools in the area and to see the Medical Center become a great source of sports medicine care for central Pennsylvania.
Silvis says that his burgeoning career has been so fulfilling because of the opportunities he's been given and made the most of.
"When you're presented with opportunities take advantage of them; you never know where your career will take you."
– By Jacob King
If you're having trouble accessing this content, or would like it in another format, please email the Penn State College of Medicine web department.