Children's Hospital holds kickoff party for Beads of Courage program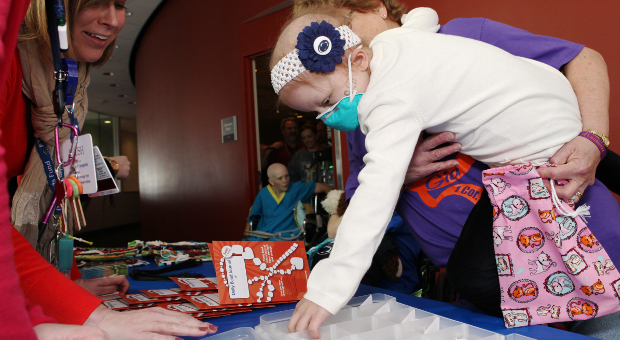 Penn State Hershey Children's Hospital hosted a kickoff party today to launch the Beads of Courage® Oncology Program. This arts-in-medicine program allows children coping with cancer to record and tell their stories using glass beads as meaningful symbols of courage that they receive over time to acknowledge milestones in their treatment journey. The one-of-a-kind beads are made by artists of the International Society of Glass Beadmakers.
The kickoff party included a time for children undergoing treatment for cancer to begin their Beads of Courage collection. They were joined by parents, siblings and Penn State Hershey nurses, social workers, physicians and Child Life staff.
"We are excited to bring this program to our pediatric hematology and oncology patients and their families," said Ashley Kane, manager of the Child Life Program at Penn State Hershey Children's Hospital. "When a child looks at another's bead strands, they will be able to 'read' the beads and know exactly what the other child has been through. It will give kids and families another way to connect and support each other."
Children receive beads to mark any of nearly 40 occasions in their treatment, including a night spent in the hospital, an infusion, surgery, an ambulance ride, a test, a therapy session or a visit to the doctor's office. The beads serve as metaphors that help a child derive meaning from their experience and help them connect to others in their life who might otherwise never comprehend all they have been through.
"The Beads of Courage Program provides a way to honor and acknowledge the incredible courage that children facing serious illness demonstrate every day," said Jean Baruch, founder and executive director of Beads of Courage, Inc.
The Palermo Heart-to-Heart Foundation is sponsoring the Beads of Courage Program at Penn State Hershey Children's Hospital.
"We are proud to announce Penn State Hershey Children's Hospital as the fourth children's hospital we support in Pennsylvania through the Beads of Courage program," said Dave Palermo, president of Palermo Heart-to-Heart Foundation. "We truly believe there is no better reward than working hard to make a difference in the life of another individual."
Penn State Hershey Children's Hospital is the first hospital in south central Pennsylvania to offer the Beads of Courage program. Though it is starting with cancer patients, the Children's Hospital plans to expand the program to other treatment areas within the next year.
If you're having trouble accessing this content, or would like it in another format, please email Penn State Health Marketing & Communications.