The Medical Minute: Lessen the risk of ACL injury for high school athletes
It's not an uncommon scenario. An athlete is sailing through the air or making a quick turn when all of a sudden he or she hears a "pop" in the knee. An athlete who experiences this followed by sudden pain and swelling often receives the much-feared diagnosis of an anterior cruciate ligament (ACL) tear.
"Young, growing athletes are at high risk for ACL injuries, so it is important to work with coaches, trainers and medical professionals to minimize the risk of injury today, as well as the likelihood of reinjury or arthritis many years from now," said Dr. Paul Sherbondy, an orthopedic surgeon at Penn State Health Medical Group – Park Avenue in State College.
According to Sherbondy, the ACL is one of the four major ligaments in the knee and the most commonly injured. It connects the thigh bone to the shin bone and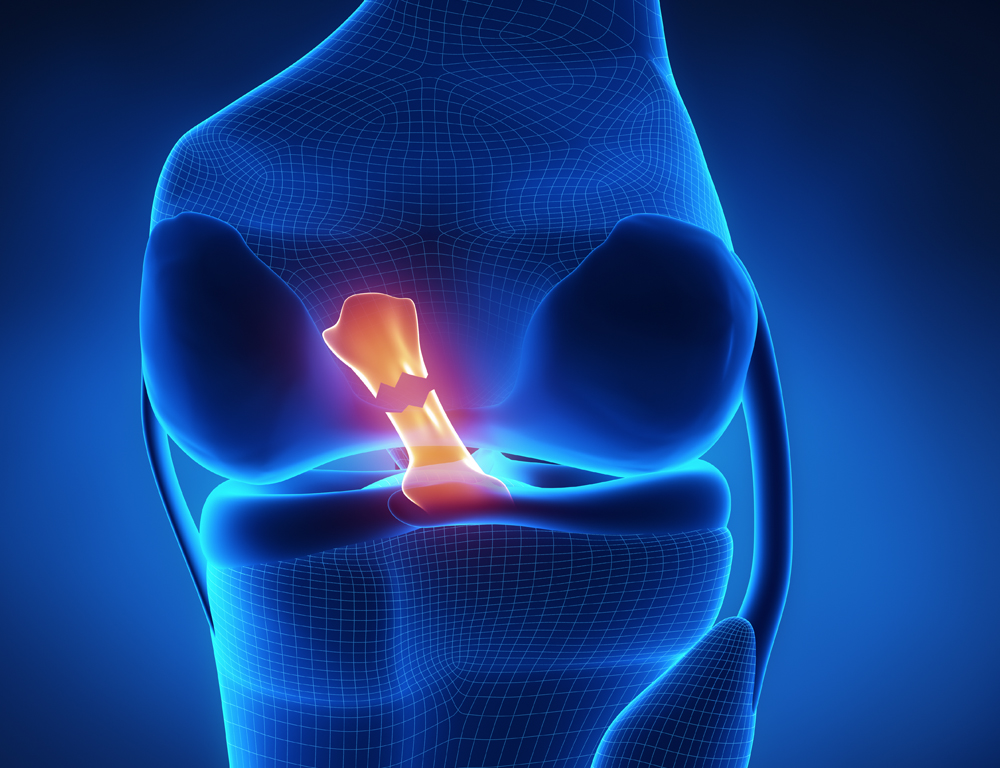 helps stabilize the knee joint. ACL injuries range from a mild overextension to a full tear. "Anyone who has injured this ligament is at higher risk for reinjury, as well as early-onset osteoarthritis of the knee," he said.
Although an athlete can injure the ACL during a collision with another player, most tears of the ligament are noncontact injuries. Primary causes of ACL damage during sports or fitness activities include:
Pivoting on one firmly planted foot
Suddenly changing direction
Landing from a jump
Quickly stopping and starting
ACL injuries are most common in sports that involve these maneuvers, including basketball, football, soccer and lacrosse.
"While young, growing athletes are at higher risk, female athletes are more likely than males competing in the same sports to suffer ACL injuries," Sherbondy said. "The reasons are not completely understood, but may be because females are more likely to have quadriceps and hamstring muscle imbalances and to land from jumps in a way that increases knee stress."
Physical therapy or surgery?
Treatment for an ACL injury depends on the severity and type of damage, as well as on the patient's long-term goals. First, a physician may order X-rays, a MRI or an ultrasound to fully define the injury and rule out fractures or other problems. Minor ACL injuries often can be treated with several months of physical therapy plus a knee brace and crutches to support healing.
"Surgery may be recommended for severe ACL injuries and for athletes who want to compete at a high level in their sport, especially in sports that require a strong, stable knee," Sherbondy said. "To restore the greatest knee stability, the recommended surgery is ACL reconstruction, which involves replacing the torn and stretched area of tendon with a graft, often from another area of the patient's own body."
After surgery, the focus is not on a quick return to play, but rather on effective rehabilitation for long-term stability and avoidance of reinjury. Deciding factors for the return-to-play timeline can include testing of aerobic capacity and isokinetic and dynamic muscle strength (for example, when hopping on one leg). Proper rehabilitation can take eight to 12 months.
Preventing ACL injuries
At the collegiate level, athletic teams often provide strength and conditioning programs for all athletes. At the high school level, availability may depend on funding and coach awareness.
"If an athlete participates in a team without a strength and conditioning program, it can be helpful to seek private assistance from a physical therapist or sports performance center to prevent injuries and enhance overall performance," Sherbondy said.
According to Sherbondy, a reputable athletic program should include:
Evaluating the individual athlete for strengths and imbalances
Exercises to strengthen leg muscles in a balanced manner
Exercises to strengthen abdominal and other core muscles
Training for proper techniques in jumping, landing, pivoting and cutting
Warm-up routine for injury prevention
In addition, athletes should always wear the proper protective gear for their sports, including sport-specific footwear.
"Athletes also should seek evaluation and treatment, where needed, for minor knee pain to prevent a small injury from advancing to a full ACL tear," he said.
Learn more:
The Medical Minute is a weekly health news feature produced by Penn State Health. Articles feature the expertise of faculty, physicians and staff, and are designed to offer timely, relevant health information of interest to a broad audience.
If you're having trouble accessing this content, or would like it in another format, please email Penn State Health Marketing & Communications.