Gilbert recognized for Exceptional Moments in Teaching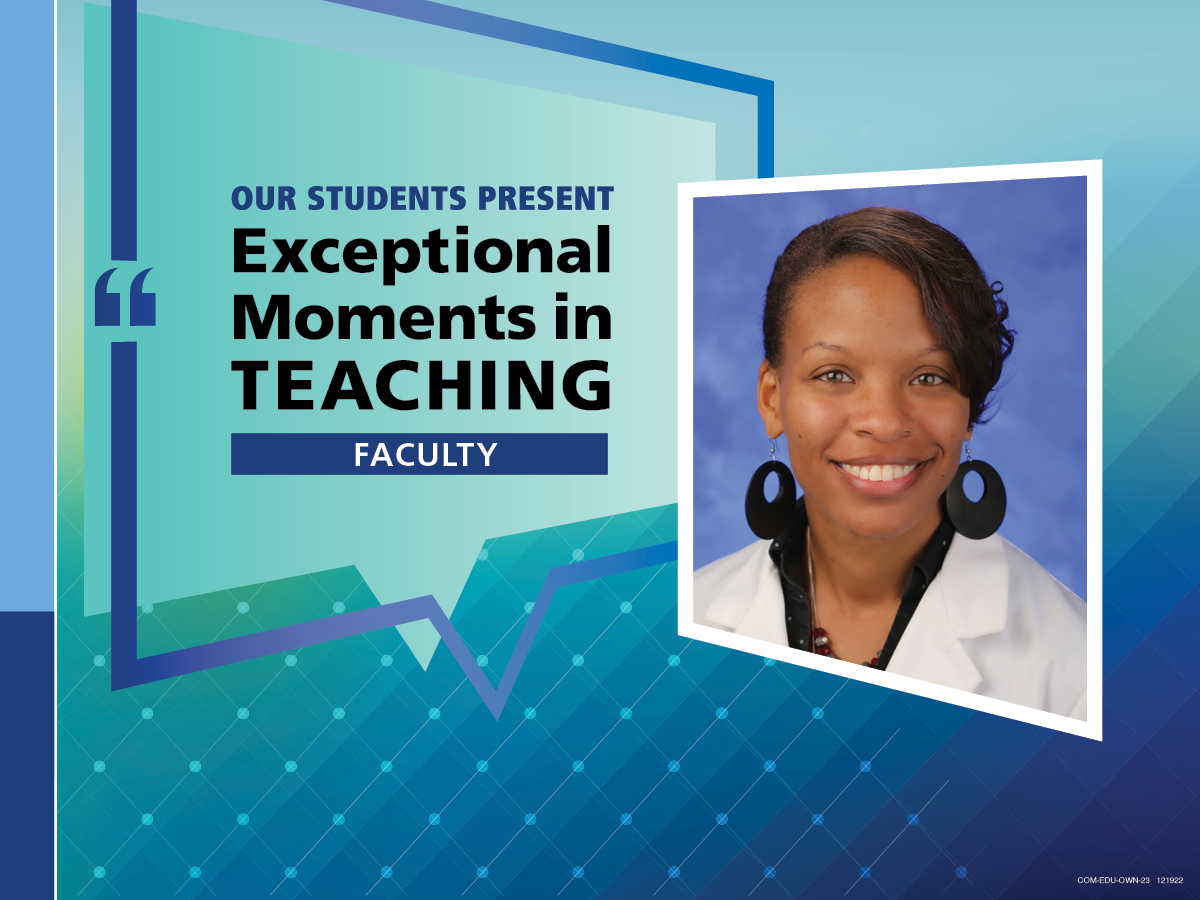 Dr. Bernadatte Gilbert, a physician in the Department of Family and Community Medicine, is featured for January in the "Exceptional Moments in Teaching" program.
"Dr. Gilbert was extremely knowledgeable and patient with us," a current student wrote. "She fostered a collaborative, safe learning environment tailored to each student's learning style and provided encouragement throughout the learning process. She identified areas for improvement with great grace and support.
"Dr. Gilbert often added context and shared her professional experiences when discussing mini-cases and during the small group sessions, which greatly enriched our understanding of the material and the real-life clinical application of concepts. She guided us every step of the way and did a phenomenal job as a mentor. She also constantly inspired us by being a professional, competent and caring physician."
Gilbert is a board-certified family medicine physician. Originally from Harrisburg, Pa., she earned her medical degree from Boston University Aram V. Chobanian & Edward Avedisian School of Medicine, Boston, and completed her family medicine residency at Boston University Medical Center. She currently serves as associate dean for admissions and financial aid and is an assistant professor in the Department of Family and Community Medicine at Penn State College of Medicine and Penn State Health Milton S. Hershey Medical Center, as well as student affairs liaison for underrepresented medical student support and society head for the Vastyan Society. Within her department, she previously served as the vice chair for diversity, equity, inclusion and belonging. Gilbert is a member of numerous medical organizations, including the American Academy of Family Physicians, Pennsylvania Academy of Family Physicians and the Pennsylvania Medical Society.
Penn State College of Medicine's Office for a Respectful Learning Environment recognizes exceptional faculty, residents and fellows with the monthly "Exceptional Moments in Teaching" program. One faculty member and one resident/fellow are highlighted each month for their contributions. College of Medicine students are invited to submit narratives about faculty members, residents, nurses or any other educators who challenge them and provide an exceptional learning experience using the online nomination form.
The Office for a Respectful Learning Environment fosters an educational community at Penn State College of Medicine in which all learners and educators feel supported, challenged, valued and respected. It serves all learners at the College of Medicine: medical students, graduate students, physician assistant students, residents and fellows.
See previous faculty and resident/fellow honorees here.
If you're having trouble accessing this content, or would like it in another format, please email Penn State Health Marketing & Communications.