Advancing to the next level of technology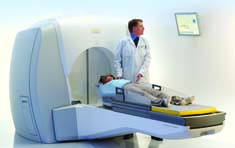 With the addition of the new Leksell Gamma Knife® Perfexion™, Penn State Hershey Medical Center welcomes the first significant advance in Gamma Knife technology in the past thirty years. Gamma Knife surgery is a well-established method used to treat selected targets in the brain. More than 50,000 patients undergo Gamma Knife surgery every year.
There are many additional benefits of the new stereotactic radiosurgery system. In particular, the new positioning system moves the entire table during the procedure, rather than just moving the patient's head back and forth. This enables physicians to treat a greater area, including the upper cervical regions.
"With the current Gamma Knife technology, we have to be concerned about the location of multiple tumors," says Sandra J. Brettler, M.S.N., R.N., C.C.R.N., C.N.R.N., nurse coordinator, neurosurgery. "Sometimes, we have to treat them twice, because we cannot reach all of the tumors in the same session. Now, with Perfexion, we can treat them all at once."
[youtube="http://www.youtube.com/watch?v=y4qlvj5UMRI"]
Another benefit of the new system is the streamlined workflow. Perfexion includes one integrated system to position the patient's head, whereas the current system requires multiple changes in the equipment during treatment. This enhancement translates into dramatic time savings and makes it more comfortable for the patient. "With the current machine, the positioning system was larger and often, we have to go into manual mode. With the new machine, we don't have to worry about this, so patients will be in the head frame for a shorter period," Brettler explains.
What won't change about the technology is its precision. The targeting system delivers high doses of radiation only to the tumor, not the healthy brain tissue. "The technique works about 90 percent of the time for malignant metastatic tumors and about 98 percent of the time for benign tumors," explains Jonas M. Sheehan, M.D., F.A.A.N.S., F.A.C.S., associate professor of neurosurgery and director of neuro-oncology.
"When I first started nursing twenty-six years ago, and patients would come in with multiple brain tumors, we couldn't help them. Now, we can offer a patient an extension on life," says Brettler. The Gamma Knife technology allows patients to return to their normal lives the same day without the need for a long-term commitment for treatment of their brain tumors.
– By Dawn Costantini
If you're having trouble accessing this content, or would like it in another format, please email the Penn State College of Medicine web department.
Subscribe to our email newsletter