Chuang receives national Chief's Recognition Award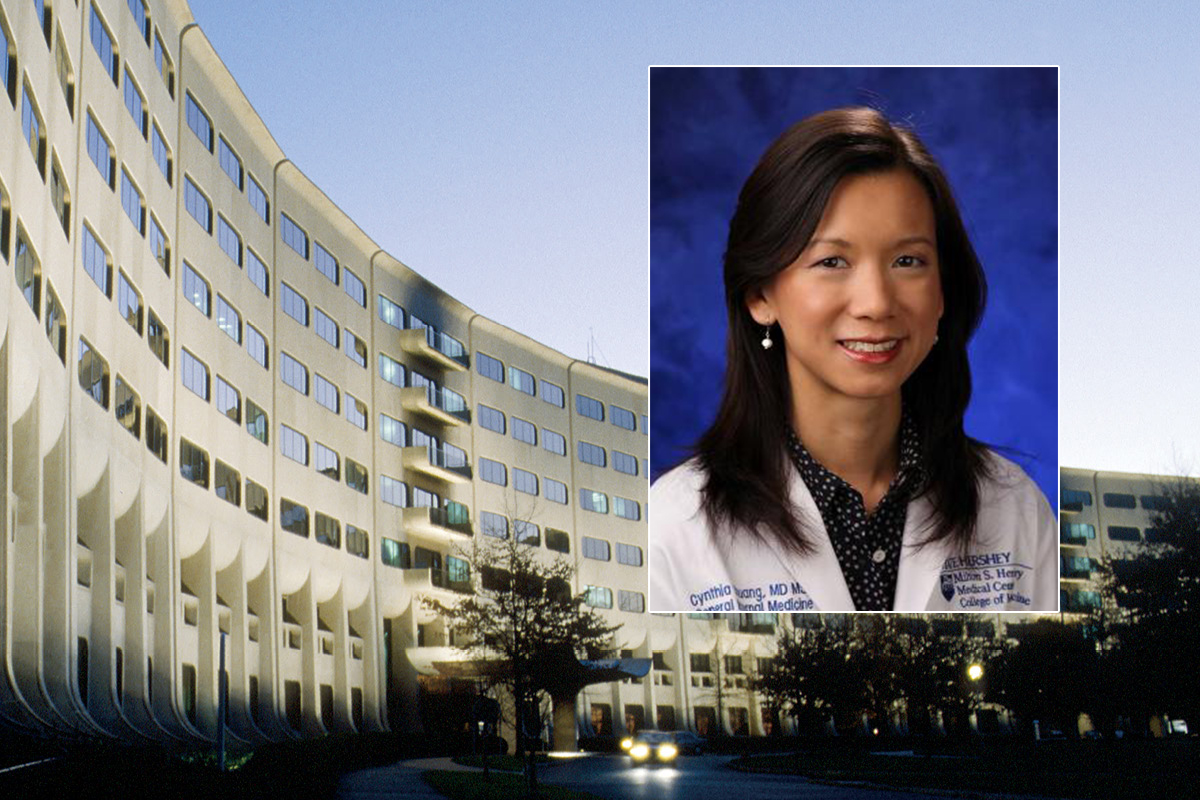 Dr. Cynthia Chuang, chief of the Department of Medicine's Division of General Internal Medicine at Penn State College of Medicine, won the Chief's Recognition Award from The Association of Chiefs and Leaders in General Internal Medicine (ACLGIM).
ACLGIM, a nationwide network of emerging and established leaders in the primary care field, gives the award annually to a general internal medicine division chief who best represents excellence in division leadership by demonstrating commitment to mentorship, faculty development, the generation of infrastructure or resources for research and program development, and promoting the general internal medicine field.
Awardees are also characterized by their ability to recruit and retain faculty, create a diverse division and support colleagues at all points along their career paths.
Faculty members nominate their ACLGIM colleagues for consideration by the ACLGIM award committee. Chuang's colleagues said she deserved the award for her leadership and personal attention.
"In an era that is brimming with remarkable individuals, there is simply no division chief more deserving of this honor," Dr. Jennifer McCall-Hosenfeld, associate dean for faculty and professional development and associate professor of medicine and public health sciences, wrote in her nomination letter. "She leads by centering love… of our faculty and staff, of our patients, of our community and of the discipline of general internal medicine."
Chuang, who is also professor of medicine, public health sciences, obstetrics and gynecology, leads the Division of General Internal Medicine with a "transformative leadership style" defined by integrity, respect, transparency and kindness, wrote Dr. Alia Chisty, associate professor of medicine and director of the internal medicine residency program.
Chuang also has a blend of tenacity and authenticity, said Dr. Eliana Hempel, associate professor of medicine, that makes her a motivating and aspirational leader.
"Perhaps the thing I admire most about Dr. Chuang is that, while our relationship and respective roles have changed and grown over time, the way she engages with me has always been the same. In retrospect, she was just as accessible and down-to-earth in our interactions when I was an intern as she is with me today," Hempel wrote. "At the time, I did not realize how unusual and valuable this is in a leader, but now I recognize the ways in which this has helped me thrive and learn from her directly and by example."
Chuang's colleagues in general internal medicine first alerted her to the news of the award, she said, and their exuberant congratulations helped the impact of the recognition to truly set in.
"After I realized what they were all so excited about, I was so emotionally overcome with how important this award was to all of us in the Penn State Division of General Internal Medicine, and not just to me," Chuang said.
According to the ACLGIM website, the Society of General Internal Medicine (SGIM) created the association to address the increasing complexity faced by those in the primary care field as they took on additional responsibility within their organizations. Chuang has been a longtime member of the SGIM, so this award had a special meaning to her – something she didn't fully realize until she was inducted into its ranks of awardees.
"I had no idea how much this recognition would mean to me until I received it," Chuang said. "The SGIM has been my professional home for over 20 years. I have sat in the audience during countless annual meetings, awestruck by the giants who have won this and other SGIM awards through the years. To know that my colleagues both here at Penn State and nationally in SGIM think I am deserving of their Chief's Recognition Award is beyond compare."
If you're having trouble accessing this content, or would like it in another format, please email the Penn State College of Medicine web department.