Putting time back on our side: LionNet advances stroke care in the region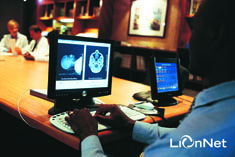 There's a motto in stroke care: "Time is brain." For stroke patients, hours–even minutes–can mean the difference between an excellent recovery and permanent neurological injury. According to the National Stroke Association, in the U.S., stroke is the fourth leading cause of death, killing more than 133,000 people each year, and a leading cause of serious, long-term adult disability.
At Penn State Hershey Stroke Center, patients receive new treatments and interventions that may reverse or reduce the effects of a stroke. Now, our stroke specialists are extending their knowledge out to the surrounding communities with the launch of the new Penn State Hershey telestroke program and network, called LionNet. Through LionNet, local community hospitals can access Penn State Hershey neurologists and neurosurgeons for real-time consultations using two-way audio-video technology. "The main benefit of this system is to allow an academic medical center [like Penn State Hershey] to integrate itself with community hospitals that don't have the same level of advanced stroke care or who desire additional stroke support and guidance," explains Raymond K. Reichwein, M.D., '91, R '96, co-director of Penn State Hershey Stroke Center, and director of the Neurology Stroke Program.
Often, local hospitals receiving a patient through the Emergency Department would like to access the level of knowledge or support available at Penn State Hershey to properly diagnose or treat a stroke. LionNet's partnership model enables our partner community hospitals to treat more stroke patients and improve their overall outcomes through 24-7 access to Penn State Hershey Stroke Center physicians. Real-time consultations occur by simply activating the system where one of the Penn State Hershey specialists can get online to assess patients via a web cam.
With LionNet, patients can receive the appropriate level of care in a timely manner at their local hospitals and have the benefit of staying in their own communities. Patients with higher acuity needs can more quickly be transferred to Penn State Hershey for advanced–and often surgical–treatments. "A lot of stroke today is a neurosurgical disease, more so than it was ten or twenty years ago when we didn't have catheter-based procedures," states Kevin M. Cockroft, M.D., M.Sc., '02, co-director, Penn State Hershey Stroke Center.
Some patients coming into the Emergency Department may benefit from the FDA-approved clot-buster drug known as tissue plasminogen activator (tPA). In many ways, "the use of tPA to treat stroke has been a real impetus for these kinds of networks, because to use this drug effectively in stroke patients, there is a short time (three to four hours) from the onset of a stroke for it to be effective," says Robert E. Harbaugh, M.D., F.A.C.S., F.A.H.A., '78, director, Penn State Institute of the Neurosciences, chair of the Department of Neurosurgery, and professor of neurosurgery and engineering science and mechanics. "If they're seen at a local hospital where they don't prescribe tPA, by the time they are transferred, it may be too late."
"At the Medical Center, 15 to 20 percent of stroke patients get tPA at any point in time. However, nationally, less than 5 percent of people get this clot buster, even though it's been around since 1996," adds Reichwein. "Some of that is due to delays in people getting to the hospital in a short enough time. It's also due to emergency department physicians, local neurologists, and hospitalists feeling uncomfortable using this treatment or providing subsequent hospital care." The LionNet system aims to improve these figures with the real-time consultations, but there will also be a large educational component built into the program.
The Penn State Hershey LionNet team will collaborate with the partner hospitals to educate people within their surrounding communities about the symptoms of stroke and when to get to a hospital. The team will also focus on educating physicians and nurses at these local hospitals. "Once we learn more about the needs of each partner hospital, we'll be able to tailor the kind of care and the level of support we can offer them," says Jennifer Humbert, M.S.N., R.N., nurse coordinator, LionNet.
Another aspect of the LionNet Program will be its support of outpatient and follow-up care. This will be especially important for patients who suffer from a transient ischemic attack (TIA), also known as a mini-stroke. Since these individuals have symptoms that resolve quickly, they're often sent home with instructions for follow-up care. "We will help in the management of these patients to figure out if they're high- or low-risk and to make sure we have everything in place both diagnostically and therapeutically so they don't suffer a stroke," explains Reichwein.
This program will also prevent the partner hospitals from being bypassed for clinical stroke care. "Pennsylvania is now requiring their EMS providers to take patients only to certified stroke centers, and some of our partner hospitals are not," explains Kathy Morrison, M.S.N., R.N., C.N.R.N., manager, Stroke Program. "It's a journey to get certified, so part of the benefit for these partner hospitals is that we will help them get that certification."
The Penn State Hershey LionNet Program is unique in that it is a joint effort between neurology and neurosurgery. "The team here works very well together, and we've been able to collaborate in building the stroke center," says Cockroft. Morrison adds, "People are often surprised by our dual commitment. I think it's a compliment to our administration, and it's good for the community to have both experts there for those quick consults."
The program will launch this summer with two to three local hospitals. The goal is to eventually expand the program to include fifteen to twenty hospitals over the next few years, demonstrating Penn State Hershey's resolve to improve patient care in the region. "Individuals in these communities can now receive excellent stroke care, no matter where they live, and be able to have good outcomes with stroke," says Humbert.
– By Dawn Costantini
More about stroke:
The Medical Minute: Solitaire for stroke — It's not a game >>
Stroke: In-depth report from Penn State Hershey Health Library >>
If you're having trouble accessing this content, or would like it in another format, please email the Penn State College of Medicine web department.