MD/PhD Program celebrates matching students, hands out awards at annual retreat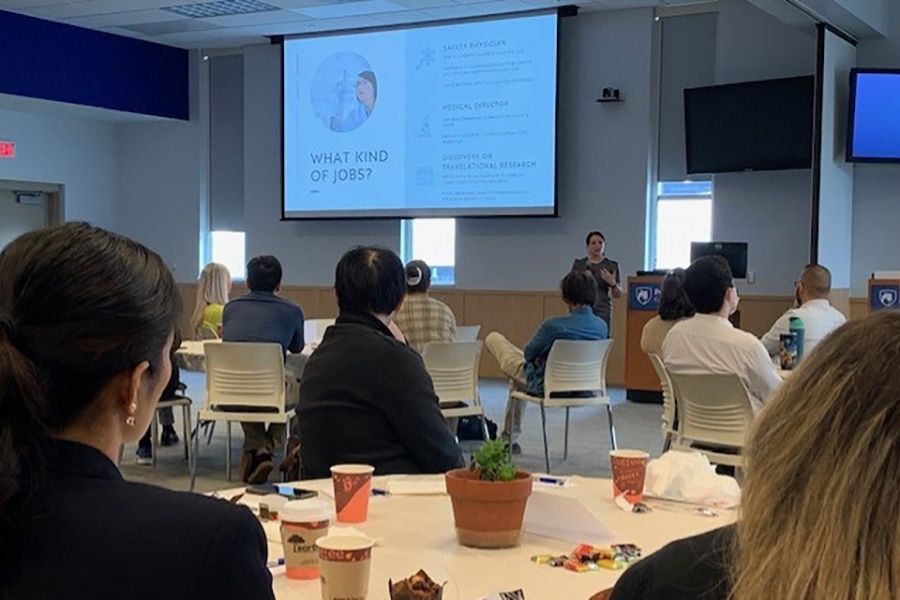 The MD/PhD program at Penn State College of Medicine celebrated its recent residency matches with an annual post-Match Day panel, met with a program alumna and enjoyed some peer networking opportunities during a retreat April 15.
The retreat's theme was Exploring Alternative Paths and Embracing Wellness.
Robert Levenson, PhD, the MD/PhD program's co-director, and Kirsteen Browning, PhD, associate director, provided a welcome and update.
The keynote speaker, Violette Kivovich, MD, PhD, talked to the group about her career journey. Kivovich, a graduate of the MD/PhD program, is executive director of clinical development at Dragonfly Therapeutics Inc. The attendees also participated in guided Kienle-style groups to facilitate vertical integration among the cohorts.
The program leadership ended the retreat by announcing award winners:
Judith Bond MD/PhD Award for outstanding achievement in research and clinical training

2023 – Martin Johnson, Spencer Katz, Mallory Peterson

Daniel Notterman award for outstanding clinical research conference presentation

2023 – Maryknoll Linscott, Havell Markus, Mackenzie Sennett
Finally, Timothy Helmuth announced the new Physician Scientist Student Association leaders.
Learn more about the MD/PhD program
Read about the MD/PhD Program's 2023 matches
If you're having trouble accessing this content, or would like it in another format, please email the Penn State College of Medicine web department.