Medical Center staff helps patient experience his son's wedding
When Michael Hoover learned that his father, Greg, was unable to leave the intensive care unit at Penn State Hershey Medical Center to attend his wedding, he and his fiancée decided to bring the wedding to his father.
Medical Center staff rallied around the cause, with several departments contributing to the special day.
The hospital's valet parking arranged for Michael to pull up to the main doors with fiancée Kelsey Kennedy, their best man, maid of honor, and Kennedy's parents on Friday afternoon, Sept. 25.
Nurse care coordinator Helen Papeika decorated a conference room across the hall from Greg's sixth-floor room with flowers, tulle, and a large heart balloon, donated by the hospital gift shop.
Claire de Boer, director of the hospital's Center Stage arts in healthcare program, arranged the couple's processional and recessional song choices. Second-year medical student Victoria Jones played the traditional songs on a keyboard in the corner.
Nurses helped Fran Hoover get her husband into his suit and slide his wedding band back on. He was transported to the conference room with a portable monitor with staff monitoring him from the hall during the short service.
Once vows had been exchanged, Greg looked up with a smile and clasped his son's hand to congratulate him. Papeika wore a second hat as wedding photographer to help the family document the event and snap the standard family group shots.
She led the couple to a conference table–covered in a white tablecloth and a vase of flowers– where they cut a small wedding cake provided by the hospital's Food Services department. She poured grape juice into champagne flutes labeled "Bride" and "Groom" for a toast and snapped photos when the couple fed each other cake.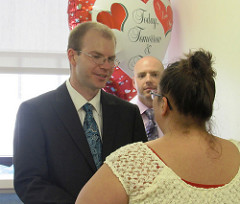 Like any wedding, there were tears, then laughter. Smiles and hugs. And for this wedding, a big round of thanks for all the hospital staff members involved in making the day a success.
"It was amazing – more than I ever expected," Kelsey said of the way the staff pulled the event together in less than a day. "They really went above and beyond."
Papeika first heard of the idea mid-week when she rounded with the doctors. Greg mentioned his goal was to be discharged before the weekend, so he could see his son get married. She and the doctors weren't so sure that would happen, so they decided to consider his request for an alternate plan.
Papeika called chaplain resident Garrett Book to find out what the rules were for such an unorthodox request. They reserved the first-floor chapel, but had to come up with plans to do it in either his hospital room or the conference room next door, depending on his condition.
She chatted with the unit's regular housekeeper about moving conference room furniture, giving the floor an extra cleaning and making sure the windows were sparkly clean – just in case.
Nurse manager Abby Rudy suggested Papeika talk with Liz Massar, family care coordinator in Patient Experience.
Abby and Liz had connected a few weeks before at a nurse manager meeting. When Massar offered to help the nurse managers in any way she could, she never imagined that would involve planning a wedding on less than a day's notice.
"I spent two hours making a lot of phone calls, and I was sweating bullets," Liz said. "We have a lot of generous people on campus. Once I explained what it was for, I think it touched everybody. You want to help people in a positive way when they are here."
Fran said the effort meant a lot to her family. "The way things were going with his health, we weren't sure what was happening," she said. "I came here after work and saw everything set up – I can't believe what they pulled off."
View a photo album from the wedding.
If you're having trouble accessing this content, or would like it in another format, please email the Penn State College of Medicine web department.