Penn State College of Medicine students provide assistance to refugees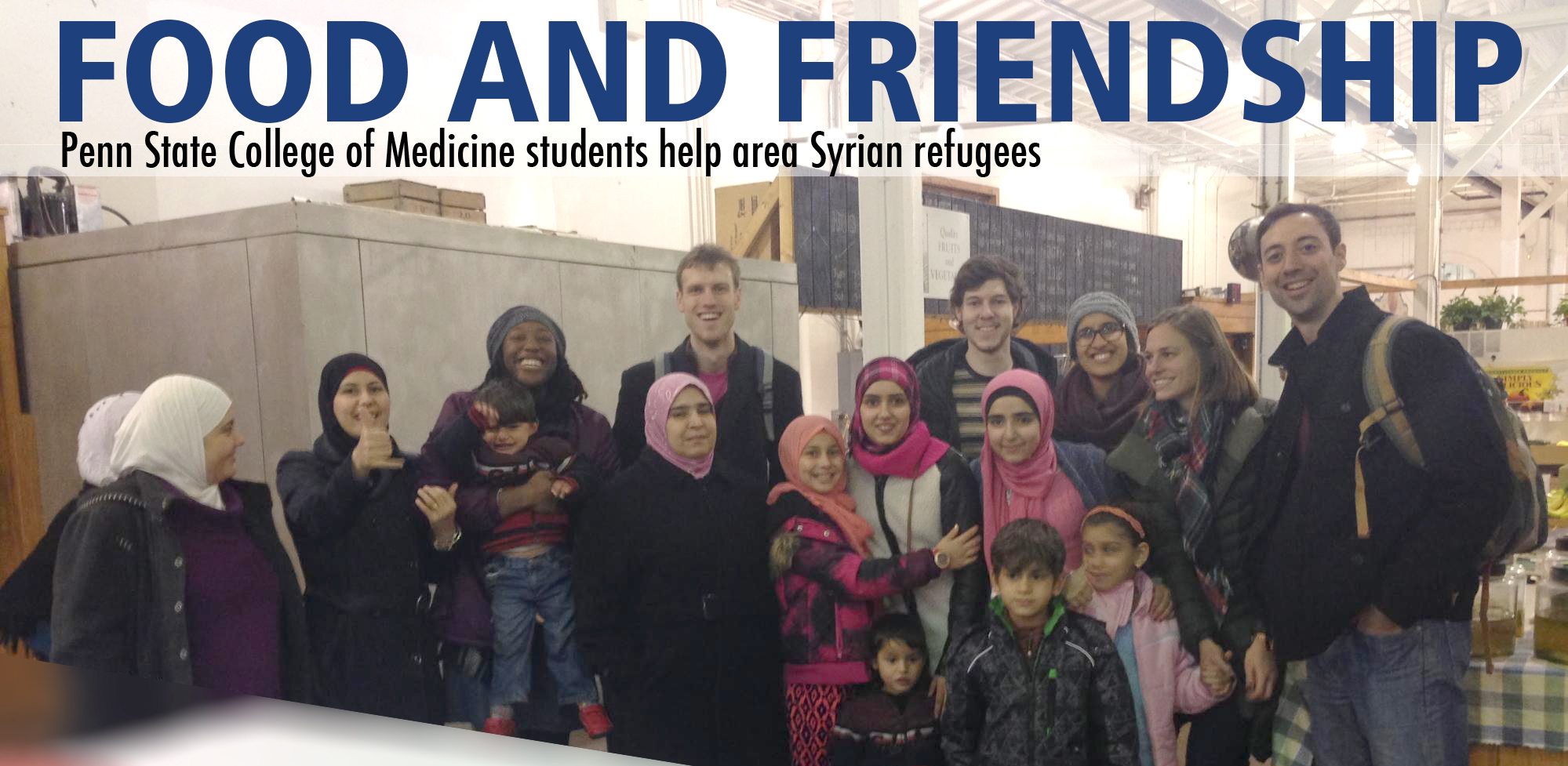 By Carolyn Kimmel
In the produce aisles at Harrisburg's Broad Street Market, six Penn State College of Medicine students in a "Food As Medicine" group are finding that an initiative to help recently resettled refugee families from Syria eat healthy is about a lot more than which vegetables they choose.
"They tell me things I will never forget: bombings nearby; random people breaking glass to get inside their homes. They say they needed to save their children; they had to leave," said Houda Bouhmam, a first-year medical student from Morocco who speaks Arabic and is helping serve as a translator between the students and the families, none of whom speak English.
Every week, Bouhmam and her fellow students meet the families at Broad Street Market and shop with them for produce as part of a "Prevention Produce" program that links at-risk or underserved community members with fruits and vegetables and nutrition education. Each family is given a voucher, depending on family size, to buy fruits and vegetables, and they express deep gratitude not only in the food, but for the company.
To walk the aisles of plenty at Broad Street Market is in stark contrast to where the families have been living since fleeing their war-torn country.
"They were kind of confused about everything. With me speaking their language, they were more comfortable," Bouhmam said. Still, old fears linger. Bouhmam said she will never forget the day she knocked at the door of one family's Harrisburg apartment and the mother and her children ran upstairs in fright as the father opened the door.
"It was a flashback of times past, what they've been through" Bouhmam said. "My situation is in no way close to theirs – I chose to come here – but still it's hard even for me to be so far from my family. They were very attached to their land and it's painful to hear their stories."
Second-year student Jen Saigal has helped co-lead the initiative with the refugee families, taking charge filling out the voucher receipts when families choose their produce, visiting the families in their homes to learn of other needs they might have, and reaching out to family, friends, and colleagues to secure donations. Being involved with the program is one of the most meaningful things she has ever done, she said.
She doesn't speak their language, but she sees the fear, anguish and sorrow on their faces as they talk with Bouhmam.
"Houda is tearing up and the family is tearing up. It's very sad to see," Saigal said.
One family talks of their years in a refugee camp in Jordan where they stood in long lines for bread, walked miles for water, and had no medical attention.
The children in the families range in age from 2 to 18.
"All the children say they like it here," Bouhmam said. "One boy said he wants to be an American police officer when he grows up because police officers here are nice, not like the police in Syria."
Prevention Produce, which has been in existence for two years, is the Food As Medicine group's flagship program. Other projects the group supports include a student-run plot in the community garden on campus that grows hundreds of pounds of produce donated to charitable causes each year.
"The key to our Prevention Produce program is going beyond just access to fruits and vegetables and providing sustained person-to-person mentoring about healthy eating. We have medical students meet families at a local market of their choosing multiple times to help them shop, develop a trusting relationship, and educate about nutrition and preventive health," said Danny George, associate professor of humanities at Penn State College of Medicine, who has served as adviser to the Food as Medicine Group since its inception in 2010.
The group launched its Prevention Produce partnership between the Medical Center and the Farmers Market in Hershey in 2014 and have since expanded to include the Broad Street Market and the Farmstead Market in Palmyra. Their primary program partners with at-risk/low-income patients referred by clinicians in the Penn State Health System, but has expanded in the past year to work with a group of women living in transitional housing in Harrisburg.
The students got involved with Syrian families when a refugee health promotion educator at the Pennsylvania Department of Health heard about the Prevention Produce project with the women in transitional housing and inquired about extending its reach to families who have recently been resettled in the area.
"The partnership appealed to me for obvious humanitarian reasons," George said. "People being resettled in our region have come from areas affected by brutal war and civil unrest, and having to adjust not only to a new culture in the wake of that trauma but also to a new food environment can be confusing and disorienting; creating some stability and nourishment through simple access to familiar fruits and vegetables is a small way we can help."
Catholic Charities was instrumental in connecting the students with Syrian families who have settled in Harrisburg. In addition to providing access to produce, the team—which includes second-year student Emma Larson, and first-year students David Boothe, Bryan Hamilton, and Ludjelie Manigat—has been working to meet other acute needs, such as winter coats and toiletries, through generous donations from colleagues in the College's Department of Humanities and Office of Medical Education, and also gathering gifts to give children on their birthdays. The delivery of formal nutrition education hasn't started yet due to the language barrier, Bouhmam said, but students will work to find creative ways to teach the parents and children as they build and deepen relationships.
Beyond the help with food, the families tell the students that just knowing they care enough to inquire about them means a lot.
"I'm finding that so much of the communication is non-verbal. The children run up to us and they want to hug us and play games with us. They have been through a lot, but they are very happy and outgoing," Saigal said.
"When you meet these families, you see they are so much more similar to us than we think. The kids just want to go to school and make friends. The adults just want to get a job and raise their family," she said. "For me, this has put a human face to all I hear in the news."
As these medical students are realizing first hand, it turns out compassion is a language that transcends words.
"Our home is now their home, and the work our students are doing is conveying that in a powerful way at an especially important moment," George said.
The students have set up a fundraising page to support the purchase of fruits and vegetables for the Syrian families. Anyone wishing to make a donation may do so at the following link: http://www.tfec.org/prevention-produce/   
If you're having trouble accessing this content, or would like it in another format, please email the Penn State College of Medicine web department.
Subscribe to our email newsletter