Ramirez recognized for Exceptional Moments in Teaching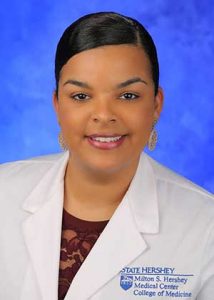 Dr. Sarah Ramirez, an assistant professor in the Department of Family and Community Medicine, is featured in the November Penn State College of Medicine's "Exceptional Moments in Teaching" program.
Ramirez is a provider at Penn State Health Medical Group – Harrisburg whose specialties include obstetrics, prenatal care and family planning, pediatrics, internal medicine, sports medicine and dermatology. At Penn State Health Milton S. Hershey Medical Center, she serves on the Population Health Committee and the Council on Diversity, Inclusion and Equity. Ramirez is a director and instructor for the College of Medicine's medical interpreter program and interviews prospective students.
"As a mentor and teacher, Dr. Ramirez pushes the medical student to work above their comfort level in a method that instills confidence in their ability to practice medicine without overwhelming them to the point of failure," wrote a current student on the nomination. "As a third-year medical student, I feel confident handling the level of work as an acting intern because of Dr. Ramirez's drive for me to push myself.
"Employing the strategy of introspective critiquing, she will ask the student to evaluate their own work and identify areas of improvement. This method then allows the student deeper reflection into their own strengths and weaknesses and promotes the student to invest interest into their own improvement."
Ramirez was recognized as one of Pennsylvania's top 100 Most Influential Latino Leaders by Latino Connection and a "Woman to Watch" by Penn State Health in 2018. She is an active member of the National Hispanic Medical Association and the American Academy of Family Physicians.
The College of Medicine's Office for a Respectful Learning Environment recognizes exceptional faculty members with the monthly "Exceptional Moments in Teaching" program. College of Medicine students are invited to submit narratives about faculty members, residents, nurses or any other educators who challenge them and provide an exceptional learning experience. Click here for the nomination form.
The Office for a Respectful Learning Environment fosters an educational community at the College of Medicine in which all learners and educators feel supported, challenged, valued and respected. It serves all learners at the College of Medicine: medical students, graduate students, PA students, residents and fellows.
If you're having trouble accessing this content, or would like it in another format, please email the Penn State College of Medicine web department.