Second class of residents graduate from Family and Community Residency program in State College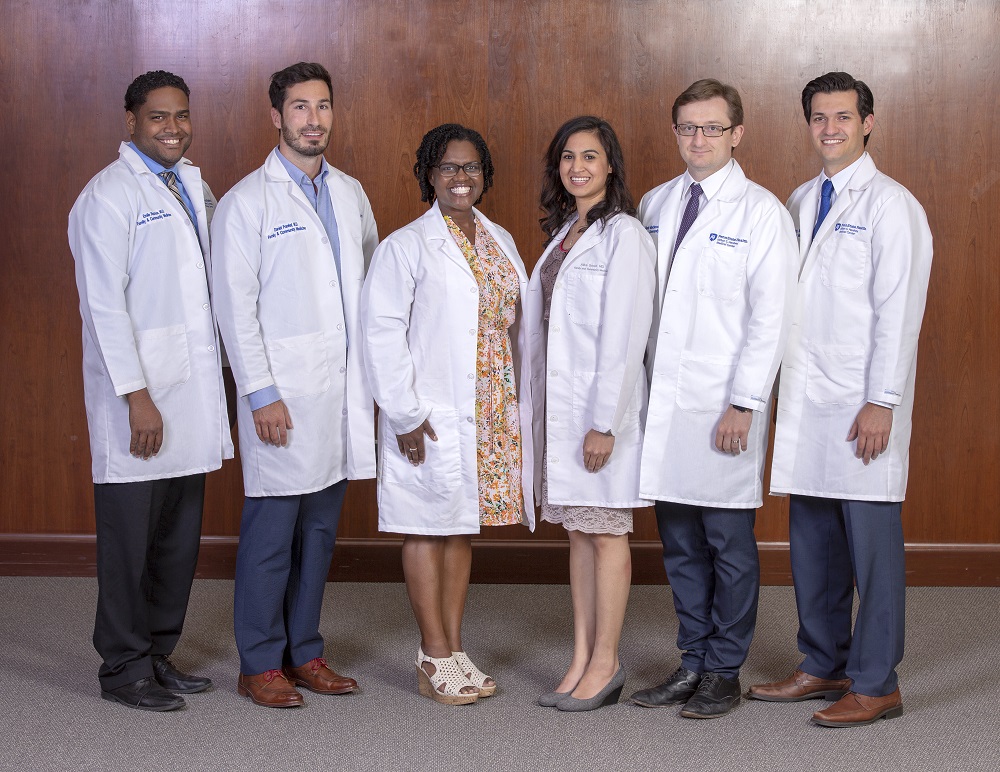 The second class of graduates from the Penn State Health Family and Community Medicine Residency at Mount Nittany Medical Center celebrated their achievements at a graduation ceremony on June 28 at Toftrees Resort and Conference Center in State College.
"It gives me great pleasure to congratulate this graduating class of family medicine physicians," said Kathleen Rhine, president and CEO of Mount Nittany Health. "Our support of training up the next generation of family medicine physicians – to serve our region and beyond – is one of the many ways our community can rely on us for exceptional care."
Dr. Joseph Wiedemer, program director of the residency, feels that the six members of the Class of 2019 are well prepared for the next steps of their careers. The residents will practice medicine in locations ranging from Washington, D.C., to Canada.
"I've watched this group of six mature and develop their skills," said Wiedemer. "They are brilliant and talented physicians. They've overcome the challenges they have faced during residency and are prepared with the skills they need."
Careful Maneuvering
Dr. Alka Sood, one of the graduating residents, will never forget the day she helped Dr. Jonathan Adams, associate professor of family and community medicine, pull a bullet fragment out of a patient's forehead. Sood learned that doctors can navigate tricky procedures by having confidence in their skills and building trust with a patient.
"The patient trusted Dr. Adams to remove it," said Sood. "It speaks a lot to the relationship patients can have with their primary care providers."
Sood was excited to do the once-in-a-lifetime procedure with Adams. Together, they were able to remove the fragment using careful maneuvers and technique.
Supportive Mentors
Residents also use careful maneuvering to get through residency. Sood attributes her success in the program to the great mentors around her.
"Our teachers have been very supportive and patient," Sood said. "They help us strive to be the best we can be while overcoming obstacles."
While the faculty were able to teach the residents many things, they also remained open to learning themselves. Sood said the faculty are seeking ways to improve the residency program, including hearing feedback from the residents.
Wiedemer credits the blend of personnel from Penn State Health and Mount Nittany Medical Center to the residents' success.
"The residents have learned from a whole team of people," he said. "The success of the program is a communitywide effort – many people are involved in making it happen."
Members of the Class of 2019 include:
Joshua Dloomy
Daniel Frankel
Tity Kpandeyenge
Mark Molckovsky
Emile Rochon
Alka Sood
Awards presented during the ceremony include:
Resident of the Year – Dr. Alka Sood
Faculty of the Year – Dr. Kit Heron
Servant Leader Award – Dr. Tity Kpandeyenge
ACT Award – Dr. Daniel Frankel
CARE Award – Dr. Joshua Dloomy
Advocate Award – Dr. Mark Molckovsky
Upward Award – Dr. Emile Rochon
If you're having trouble accessing this content, or would like it in another format, please email the Penn State College of Medicine web department.