A career protecting children from abuse
Since early in his medical career, Mark Dias, M.D., F.A.A.P., F.A.A.N.S., professor of neurosurgery and pediatrics at the College of Medicine, has spearheaded research exploring hospital-based and public policy interventions for decreasing the incidence of shaken baby syndrome, now more often referred to as abusive head trauma. "Abusive shaking and blunt impact to the head has a devastating impact on infants; if the child survives, he often is challenged to recover from severe brain injury and swelling, skull fracture, and retinal hemorrhage and damage," says Dias.
As part of his strong commitment to protecting children from abuse, Dias has helped to form the Penn State Hershey Center for the Protection of Children. In 2009, Dias began working to grow a team of specialists at the Medical Center to evaluate and treat victims of child abuse and neglect. The child safety team began informally with the part-time support of Laura Duda, M.D., and Kathryn Crowell, M.D., R '01, pediatricians who trained at children's hospitals in Pittsburgh and Philadelphia as fellows in specialized pediatric child abuse medicine. In the summer of 2011, Andrea Taroli, M.D., a board-certified child abuse pediatric specialist, became the first director of the Penn State Hershey Center for the Protection of Children.
Dias says, "Over the past year, we've achieved a quantum leap forward in the child abuse services we provide. The first lecture and reception to introduce the Center for Child Protection to the community in March, was a way of recognizing how far we've come. It took years of hard work to make it a reality. Now we have a fully dedicated team of specialists, including three pediatricians, nursing staff, and a full-time social worker. The care we provide goes deeper than just case detection." In addition to providing comprehensive medical and psychological care, the center's professional team, including Dias, has developed a formal pediatric abuse curriculum within the College of Medicine and community educational programs to increase abuse awareness and prevention. The center also provides support for legal child advocacy and anti-abuse public policy efforts.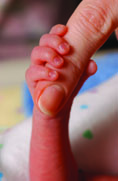 Dias is also the director of the Pennsylvania (PA) Shaken Baby Syndrome Prevention Program, which educates parents of newborns across the state about the dangers of violent infant shaking. Launched in 2003 as a regional intervention involving all central Pennsylvania hospitals, this parent education program was mandated in 2006 to be implemented statewide by the PA Department of Health. Parents of newborns are asked to watch an educational video about Shaken Baby Syndrome, receive a brochure about abusive head trauma, and sign a statement affirming their receipt of this information prior to hospital discharge. On behalf of the PA Department of Health, Dias' group develops intervention materials, tracks hospital compliance, and tracks abusive head trauma cases. The program, which began in upstate New York in 1998, resulted in a 50 percent reduction in Shaken Baby Syndrome that has been sustained over thirteen years.
"Unfortunately, in Pennsylvania the annual number of identified abusive head trauma cases has increased since we began tracking statewide in 2003; one of the potential reasons for this is that we are getting better at detecting abuse," Dias said. "Detection offers some hope that these infants will be protected." Dias is looking to expand the parent intervention to include follow-up newsletters for parents of newborns about normal patterns of infant crying and strategies for calming the infant and coping with the stress of new parenthood, all in an effort to decrease the incidence of abuse and abusive head trauma in particular.
Dias has formed ongoing collaborative relationships with numerous colleagues at Penn State Hershey, including Arabinda Choudhary, M.D., pediatric radiology, Michele Shaffer, Ph.D., M.D., public health sciences, Neal Thomas, M.Sc., M.D., pediatric critical care medicine, and Joel Weinstein, M.D., and Michael Wilkinson, M.D., from ophthalmology, to study abusive head trauma-related intracranial pressure and hemorrhage, parental demographics and clinical correlates, and retinal hemorrhaging, respectively. Dias is also collaborating with Benjamin Levi, M.D., Ph.D., in the College of Medicine and Lucy Johnston-Walsh J.D., at Penn State Law, to study the meaning of the term "reasonable medical certainty" among both expert medical witnesses who testify as well as judges and lawyers who are involved in child abuse cases.
– By Karen Dougherty
If you're having trouble accessing this content, or would like it in another format, please email the Penn State College of Medicine web department.
Subscribe to our email newsletter