Beyond the gloves of the Pink Glove Dance
Combine a competitive spirit, a desire to overcome breast cancer and a whole lot of pink gloves and you get the 90-second roller coaster of emotion that is the Penn State Milton S. Hershey Medical Center's entry for this year's Pink Glove Dance competition. The annual contest is sponsored by Medline, manufacturer of the pink surgical gloves to raise awareness for breast cancer.
For the second year in a row, the Medical Center is asking for community support to help kiss cancer good-bye. Each vote gets Hershey one step closer to a first place win and the $25,000 to benefit PA Breast Cancer Coalition research. Hershey placed second last year, its first year in the competition.
The video, produced in conjunction with Hershey Entertainment and Resorts, the Medical Center's contest community partner, features breast cancer survivors and their supporters riding Lightning Racer, one of Hersheypark's eleven roller coasters, to represent fighting the disease through literal ups and downs.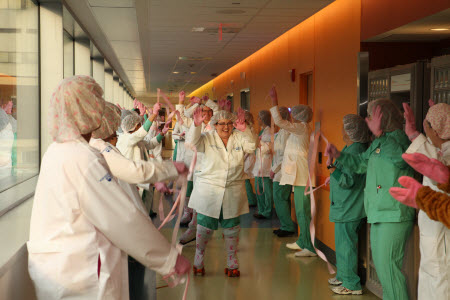 "Dealing with breast cancer is kind of like being on a roller coaster," said Kathy Law, director of nursing-perioperative services and executive sponsor of the Medical Center's Pink Glove effort. "We thought what better way to bring the two entities together to work on a very worthwhile project."
And from that partnership, the concept was born.
"There are so many people who are touched by this personally," Law said. "You don't have to look too far to find somebody effected by the disease."
More than 500 employees, patients, and survivors wearing pink gloves are seen in the contest entry dancing to "Change the World" by Outasight. The video was filmed during multiple filming sessions over several weeks late last summer.
Among them are a survivor and her daughter who tell their story through visiting the many places in the Medical Center where mom received care.
The Penn State Nittany Lion and Hershey's Kiss character also donned pink gloves to support the hundreds of thousands affected by the disease.
Kathy Burrows, a public relations manager, Hershey Entertainment and Resorts, believes the video aligns with the company's concept of edutainment and hopes it will promote awareness. "Hopefully it will cause people to examine themselves or reach out to the women around them to remind them of self checks and mammograms," she said.
While the contest is meant to be fun and entertaining, first place earns more than just bragging rights. "Winning really means bringing awareness to this disease that touches just about everybody in some way, shape, or form," Law said.
The PA Breast Cancer Coalition, a statewide non-profit, supports breast cancer survivors and their families in Pennsylvania through educational programs, legislative advocacy and research grants. For more information on the organization, their programs and services, visit http://www.pabreastcancer.org.
To support Medical Center and breast cancer research, visit http://www.pinkglovedance.com/videos/2013-video-contest/penn-state-milton-s-hershey-medical-center/. You can vote once per day per email account through November 8. The winner will be announced on November 15.
If you're having trouble accessing this content, or would like it in another format, please email the Penn State College of Medicine web department.