Fully integrated cancer patient care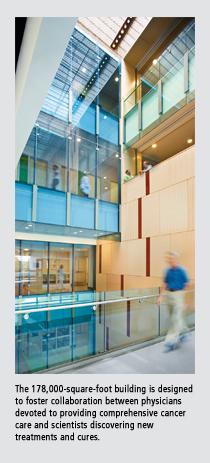 As many of the day-shift employees are just arriving, still shaking off the morning grog and sipping coffee, Kevin Staveley-O'Carroll, M.D., Ph.D., is already in surgical scrubs and doing something between a fast walk and light jog as he heads to a 7:00 a.m. meeting to discuss cancer patients.
After briefly greeting about twenty-five attendees, Staveley-O'Carroll, the head of surgical oncology at Penn State Milton S. Hershey Medical Center, takes a seat as the lecture hall-style room is darkened and a large screen is filled with scans of internal organs.
Certain images are enlarged, crevices honed in on, and written details of previous diagnoses and treatments are flashed before the liver, pancreas, and foregut group. Original diagnoses are discussed and critiqued, projections are made on the potential to help the patient, and future treatment and surgeries are mapped out.
Sometimes the conversation is agreeable; sometimes it's not, such as when a physician "respectfully disagrees'' with a study cited by Staveley-O'Carroll from an Australian conference he attended in regard to a more aggressive use of liver transplants. Noting the preciousness of available organs, the doctor says "livers don't grow on trees; unlike surgeons.''
The comment invokes some light laughter, but doesn't even come close to puncturing the highly professional air engulfing the serious business at hand.
Those liver, pancreases, and colons on the screen belong to real people with life-threatening cases that have been referred to these highly skilled men and women who are part of this interdisciplinary team of surgical oncologists, medical oncologists, radiation oncologists, gastroenterologists, hematologists, interventional radiologists, research fellows, and medical students. The latter are directly addressed several times by Staveley-O'Carroll for "teachable moments.''
Interdisciplinary teams were a major goal of Thomas P. Loughran, Jr., M.D., director, Penn State Hershey Cancer Institute, when he arrived seven years ago. They are now an integral part of the $153 million institute that opened in July 2009. The liver, pancreas, and foregut team headed by Stavely-O'Carroll is one of the more advanced interdisciplinary teams for all types of cancers up and running in the new facility.
As Staveley-O'Carroll says about the array of specialists in his group, "We all have different strengths and we all learn from each other.''
The ultimate beneficiaries, of course, are the patients. For those with cases before the liver, pancreas, and foregut group, the consensus from the morning session will be presented to them in clinical settings that Friday and also shared with referring physicians.
Although these teams have been meeting for a few years now, the new Cancer Institute building better facilitates the sessions by putting everything under one roof in the airy, five-story center that houses nearly 400 faculty and staff; 40 infusion stations; 10 private treatment rooms dedicated to bone marrow transplants; 64 open research lab benches and workstations; the groundbreaking "RapidArc'' radiotherapy that can destroy tumors in two minutes (conventional treatment is ten minutes); and image-guided, high-dose brachytherapy for prostate cancer patients.
All of this is meshed around a four-story atrium under a roof skylight that leads to the healing garden between the institute and the main hospital.
Kirk Swanson of Harrisburg, who was diagnosed with a rare stage III epithelioid sarcoma at age 29, was already impressed and grateful for the care at Hershey that now has him cancer-free. As he continues treatment, he says the new facility "underscores the fact that Penn State is committed to finding a cure to cancer and, in the meantime, providing the best possible options for treating cancer.''
Swanson says from experience that patients will benefit greatly from having treatments and routine screenings done under one roof, while access to state-of-the-art technology and specialists in one's backyard provides immeasurable benefits to him and other central Pennsylvania patients.
The "under one roof'' phrase comes up a lot at the Cancer Institute. This unique setting in central Pennsylvania—which for Hershey's purposes is defined as a twenty-seven county catchment area—will greatly aid both patient care and research.
The mantra that "cancer doesn't travel well'' also applies. In addition to the expense of having to travel great distances for care, there is the separation and distance from family on which no price tag can be placed.
Noting that nearly 80 percent of cancer care is done in private practice, the traditional scenario is that a patient calls and makes an appointment with the doctor, who will often say, "Before I decide on your case, I want you to see a few other people.'' Those other people often are the same specialists who make up the interdisciplinary teams. So a patient can literally spend months making those appointments and waiting for it to be pieced together by their physician.
The Cancer Institute offers a unique service to patients. They receive a variety of opinions from a team who sees each other all of the time. It is a team that is very deliberate in treating and in keeping up with the latest developments.
By putting researchers, surgeons, and specialists all together, information is often shared within minutes, if not seconds. What is going on in the treatment rooms or clinics is quickly shared via computer technology with those within the treatment group, as well as scientists working on future breakthroughs.
It is that research that gives many current patients with low- or zero-cure-rate cancers hope.
Much has changed in cancer care over the years. Years ago there were no lung cancer survivors and no need for survivorship plans. Now, there are people who are going to be able to live a few years out while new discoveries are made.
Current treatment and research is part of the second major goal set by institute director Loughran: gaining the prestigious accreditation of the National Cancer Institute. There are approximately sixty-five centers with this designation, with about forty of them being comprehensive centers.
As the numbers suggest, the NCI designation is a rigorous and time-consuming process that reviews a center's all-around program and how it benefits patients and research.
The new building has greatly aided Hershey's application since it fully integrates areas that Loughran says NCI wants to see collaboration across–basic science research, clinical research, population research, and translational research.
As an example, Loughran noted that Hershey has "a bunch of new drugs in the pipeline.'' At a certain point, he said, these drugs will be tried on patients in the institute's clinical setting to see how they work and what side effects, if any, may result.
"When we use the drug in the clinic, the information immediately comes upstairs to the labs where scientists take measurements to see how they are working,'' Loughran said. "This pretty much happens all at the same time.''
Given that precious few cancer centers have attained NCI designation, Loughran said gaining the accreditation helps recruit top-notch scientists and doctors to the Cancer Institute who want to be on the cutting edge and to have more resources at their disposal. NCI designation means as much as $1 million in research money for three years, after which the center can reapply for more funding. "We already have a great institution and great people who have done wonderful things for patients,'' Loughran said. "But this will mean even bigger and better things.''
Chandra Belani, M.D., Miriam Beckner Professor of Medicine and deputy director of the Cancer Institute, is just one of many cancer researchers whose work will greatly affect the NCI designation process. Since his arrival at the Cancer Institute in July 2007, participation in clinical trial's has increased by 50 percent with 9.7 percent of Cancer Institute patients participating in clinical trials. He continues to lead research efforts around the treatment of non-small cell lung cancer.
As part of the NCI designation process, the Cancer Institute submitted a 1,000-page application in May. An NCI team will conduct a formal in-house evaluation in the fall, and the Cancer Institute should hear whether it has attained the designation early in 2011.
But while things look good for NCI designation, with it or without it, those central Pennsylvanians who hear the dreadful diagnosis of cancer have a first-class facility in their backyard. The same applies to their referring physicians and institutions.
The closeness the Cancer Institute provides for central Pennsylvanians helps patients with the all-important positive outlook, which is personified in the quotation from the late actor Christopher Reeve that is inscribed in the institute's lobby: "Once you choose hope, everything is possible.''
That theme is not lost on the patients either, or as Kirk Swanson puts it: "The facility is more than just a building; it's a statement. It says, 'we are here for patients and families who are battling cancer, and we are not going to stop until a cure is found.''
– By John Troutman
If you're having trouble accessing this content, or would like it in another format, please email the Penn State College of Medicine web department.