The Hershey Company: A tradition of giving and partnership
If it's true that we make a living by what we get, but we make a life by what we give, then Milton S. Hershey's legacy continues to make for an extraordinary life.
Milton S. Hershey is familiar to some who visit the Medical Center bearing his name, and to others who simply enjoy his namesake chocolate candy. But many people probably aren't aware of the far-reaching influence of this businessman, leader, and philanthropist. Taken together, the long history among Penn State Hershey Medical Center, Penn State College of Medicine, and The Hershey Company begins to reveal his wide-ranging impact.
For instance, this unique partnership continues to lead the way locally and nationally, working seamlessly toward a common goal — improving the lives of children and the quality of life in the region. And in the last couple decades the steadfast efforts of dedicated men and women embracing Hershey's vision have left their own imprint. Here are some of the highlights.
Since 1989 the employees of The Hershey Company have volunteered their time to Children's Miracle Network with the sole purpose of raising money for the Children's Hospital. So far, more than $3 million has been raised to pay for such things as a heart/lung bypass machine for pediatric heart surgeries. According to Jim George, vice president, corporate social responsibility, The Hershey Company, the employees give of their time and talent because they're passionate about saving and improving the lives of children in need.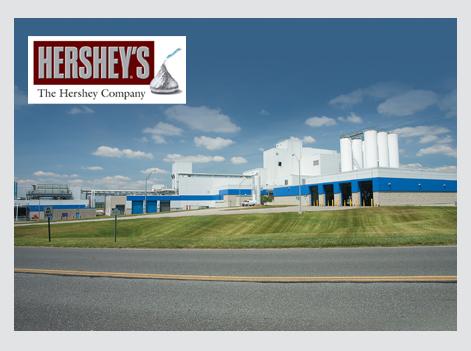 In 2002, The Hershey Company created an endowment fund of $500,000 at the College of Medicine. The yearly proceeds fund The Hershey Company Scholars program. Thanks to this gift, certain medical students with financial need now receive scholarship support. "These students are the leaders of tomorrow, and will eventually help heal those in need,"
George says. "Many students will continue their research and clinical practice at this state-of-the-art facility, providing the community with outstanding medical care, and this in turn, supports The Hershey Company's goal of attracting and retaining talented employees that will enable us to compete in the global marketplace."
This past year, The Hershey Company committed $1 million to Penn State Hershey Children's Hospital to create a Safety Center, a space dedicated to keeping children injury-free. Unintentional injuries and trauma are the leading cause of admission to the Children's Hospital. The resource center in the new building will help parents and caregivers by providing information, training, and protective devices. Most importantly, those much-needed child safety products, such as safety gates and outlet plugs, will be offered at lower prices.
"Milton S. Hershey and his wife Catherine left a wonderful legacy of helping children in need and giving back to the community, and we are carrying forth that tradition," George says. "We are honored to provide our support to help meet the needs of families and children right here in central Pennsylvania."
– By Paula Rasich
If you're having trouble accessing this content, or would like it in another format, please email the Penn State College of Medicine web department.