Physician lack of sleep: Can cognitive "overload" compromise care in a crisis?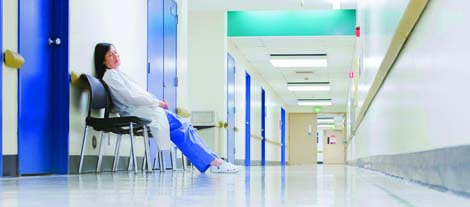 For decades, lack of sleep and fatigue have been an unwelcome but accepted part of physician training and everyday medical practice. Medical students and residents are likely to work a full day and then be on call through the night, typically working a full 24-hour shift and getting very little uninterrupted sleep. Sleep researchers, however, have consistently shown that well-rested physicians commit fewer serious medical and diagnostic errors, compared to physicians working extended shifts (e.g., more than 24 hours). Increasing awareness of the negative impact and risks posed by physician sleep deprivation led the Accreditation Council for Graduate Medical Education in 2003 to place duty hour limits on resident physicians. Although the limits have been in place for nearly eight years, the debate about sleep deprivation, resident training, and hospital costs continues unabated.
A research study conducted by Jonathan Tomasko, M.D., research fellow in the Division of Minimally Invasive and Bariatric Surgery, along with Randy Haluck, M.D., '91, R '97, and Eric Pauli, '04, M.D., Division of Minimally Invasive and Bariatric Surgery, sheds light on the duty limit debate. Tomasko explains, "We wanted to assess how sleep deprivation affects not only how well surgeons perform familiar techniques, but also their ability to learn something new and to deal with a mentally challenging task. It touches on clinical issues like dealing with errors, as well as the educational debate about duty hours."
For the study, surgical medical students who had been trained to proficiency using the RapidFire minimally invasive virtual reality–like simulator were randomized to either a normal daily work shift followed by a full night of rest, or a full 24-hour work shift. The participants were assessed prior to and after the work shift conditions in terms of subjective sleepiness and cognitive workload and RapidFire task accuracy. Contrary to expectations, according to Tomasko, "Medical students with 24-hour sleep deprivation performed the RapidFire tasks with similar accuracy as at baseline and were able to learn a new task using an EndoTower surgical simulator as quickly as fully rested participants."
Nevertheless, the sleep-deprived participants reported significant increases in sleepiness and sense of cognitive workload. Tomasko notes, "The high cognitive workload scores suggest that the sleep-deprived medical students were at their performance limit. Their sense of being mentally overloaded indicates they would be less likely to deal effectively with a patient problem or treatment error. When resident physicians are finishing a 24-hour shift, their performance in a crisis situation might be compromised." According to Tomasko, who plays a significant role in surgical resident training, "Despite the limits that are in place, medical educators need to continue to evaluate their institution's policies regarding duty hours, to find the right balance between providing intensive resident training and high-quality patient care."
– By Karen Dougherty
If you're having trouble accessing this content, or would like it in another format, please email the Penn State College of Medicine web department.