Unintentional pioneer: Tim Card is Penn State Cancer Institute's first patient in cutting-edge cancer treatment
By Carolyn Kimmel
Looking back, there were clues that Tim Card would soon be fighting for his life—his body was sending signals that he was misreading.
Because who would ever think a 40-year-old owner of a CrossFit gym and father of seven suddenly would have an aggressive form of cancer?
"I knew I was 'off,' but I couldn't pinpoint it, and it wasn't all the time. I figured I was just tired," the Mount Joy resident said, recalling how he felt in September 2017. https://youtu.be/1gz9mMIV8uY Then, a month later, he got a pain in his side that wouldn't go away and finally took him to the ER. Had he pulled a muscle? Eaten something that didn't agree with him?
Five biopsies later, the unfathomable was suddenly real: diffuse large B-cell lymphoma, centered on his left side with cancerous lymph nodes above and below his diaphragm.
"It felt like an out-of-body experience―it can't be right," Card said of the diagnosis. "All the things you're not supposed to do—drink, take drugs, eat too much—I don't do."
Card—with his wife Tricia and large family cheering him on—set his sights on six rounds of chemotherapy, and then he'd get on with his busy, crazy, wonderful life.
The treatments and accompanying steroids robbed him of the physical stamina he worked so hard to maintain and replaced his good nature with a short temper.
His fuse, he said, ran short, and his children, ages 18, 17, 14, 11, 9, 7 and 5, were "seven little matches running around." The disease took its toll on his marriage too, making him feel useless while his wife juggled work, home and his illness.
Yet he wore hope like a well-loved robe, thin in spots but still able to provide cover.
Until the follow-up scan.
While the cancer had abated after three rounds of chemo, a check after the sixth round returned devastating news: the mass in his side was growing again.
Unbeknownst to him, Card was about to make history at Penn State Cancer Institute as the first recipient of chimeric antigen receptor T-cell therapy, or CAR-T therapy.
See photos of Tim's journey to remission on Flickr.
The Cancer Institute, located on the campus of Penn State Health Milton S. Hershey Medical Center, is the first and only health care facility in central Pennsylvania to offer this lifesaving treatment to adult patients with lymphoma who have exhausted all other options.
"This is groundbreaking treatment," said Dr. Shin Mineishi, medical oncologist and director of the bone marrow transplantation and CAR-T programs at the Cancer Institute. "These are people who thought they had no hope for a cure or long-term remission, and now they have hope for both."
The prospect was daunting, but Card was ready. "It's kind of neat to be the first patient for this at Penn State Cancer Institute," he said last summer. "Nobody wants a failure, right?"
The therapy involved extracting several million of Card's T cells, a type of white blood cell, genetically modifying them to attack his cancer and then putting them back into his body to fight the cancer.
Scientifically speaking, the extracted T cells, whose role is critical to the body's immune response and killing of cells infected by pathogens, are modified with the use of a disarmed virus to produce receptors called chimeric antigen receptors, Mineishi said. These receptors allow T cells to recognize and attach to a specific protein called an antigen on the tumor cells. In the lab, these modified T cells are multiplied into hundreds of millions.
A month—and 30 pounds of lost weight—later, the modified T cells were infused back into Card, where they will continue to multiply and be able to recognize and kill cancer cells that harbor the antigen on their surface, Mineishi said.
The treatment is intense, and not every lymphoma patient is a candidate, said Dr. Christopher Ehmann, Card's hematologist at the Cancer Institute.
Card was the best candidate possible for the revolutionary treatment—young, otherwise healthy and a limited amount of disease present, Ehmann said.
Still, make no mistake—CAR-T is the hardest thing he's ever done, hands down, Card said. There were moments when he told his family he could not go on.
"I was really fearful that the cancer wouldn't kill me, but the treatment would," he said.
From the moment the engineered cells were infused back into his body, Card said the experience felt surreal. "Once they're in, they're in, and there is no going back," he said. "I was terrified."
Card ended up getting both of the most common side effects—a condition causing a 105-degree fever and flu-like symptoms and neurotoxicity that caused mental confusion. He spent six days in the intensive care unit, unresponsive at times.
"That was scary," his wife said, tearing up at the memory of all those days traveling back and forth to Hershey. She took refuge in the deep faith she's always had, listening to praise songs and praying for strength to handle the day and return home with a smile and confidence for her kids.
The sacredness of her marriage vows really came home to her, she said. "When you promise 'in sickness and in health,' you aren't really thinking about the sickness part," she said. "This made it very real. I took this vow—now how do I do it?"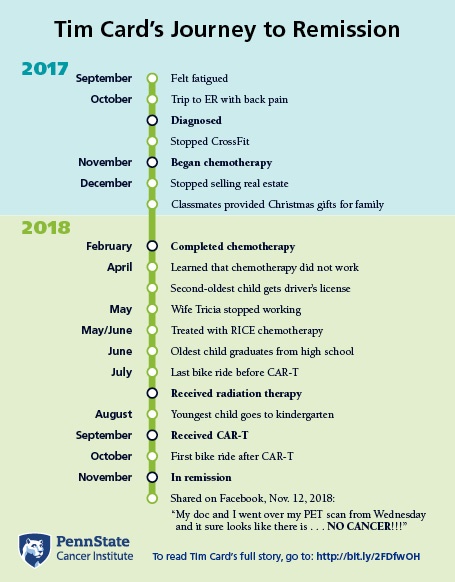 Tim and Tricia met at Franciscan University in Ohio and got married while still students. "We got pregnant right away, and we've been recklessly procreating ever since," Tim Card said with the characteristic humor he regularly inserts into conversation—even when talking about cancer.
"I try to keep a good sense of humor about it. It's been a saving grace," he said.
That humor—and sheer will—got Card to the moment he and his family and friends have hoped and prayed for since his diagnosis.
A PET scan in early November showed no sign of cancer.
"I really had a hard time believing it," Card said. "We've been primed for bad news for so long, I didn't know what to do with the good news."
The first thing he did was share it—individually with each of his children, just as he had done 13 months earlier. Their reactions—laughter, hugs, relief—made the news that much sweeter.
"I was delighted," said Ehmann, who confessed he looked at the PET scan results before meeting with Card. "He's in complete remission."
That doesn't mean the cancer won't return, but studies show that close to half of adults with lymphoma and about two-thirds of children with acute leukemia have achieved remission of more than two years with CAR-T. Mineishi said it's possible Card will never deal with this cancer again.
The Cards are doing something they haven't dared to do for a long time—plan. First up, their 20th wedding anniversary hiking trip to the Adirondacks, set for August.
With energy he hasn't enjoyed for months, Card is riding his stationary bike 25 miles a day and he's back to his job as a real estate agent. He's gained 15 pounds, and he is determined to lift weights high over his head again.
When he thinks back on being Penn State Health's first CAR-T patient, Card said he will always be grateful.
"Everyone at the Medical Center was phenomenal and annoyingly attentive," he said with his trademark smirk, before turning serious. "I can't thank them enough for saving my life."
Learn more: 
If you're having trouble accessing this content, or would like it in another format, please email the Penn State College of Medicine web department.