Gelenberg charts the course for Psychiatry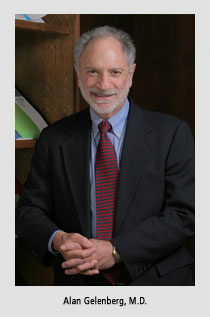 From Harvard to Arizona to the Midwest and back to his native Pennsylvania, Dr. Alan J. Gelenberg's lifetime of academic, clinical, and community experiences has shaped his vision for the Department of Psychiatry at Penn State Milton S. Hershey Medical Center and Penn State College of Medicine.
Gelenberg was named chair in November, and in the 14 months since he arrived in Hershey as a professor and interim chair, he has earned the complete respect and confidence of his colleagues and has been remarkably successful in advancing the strategic direction of the department.
An international lecturer and the editor-in-chief of Journal of Clinical Psychiatry, Gelenberg has been the recipient of all sorts of recognition—listed in The Best Doctors in America and America's Top Doctors, he also received the 1997 Exemplary Psychiatrist Award of the National Alliance for the Mentally Ill.
Gelenberg came to Hershey from Wisconsin, where he served as clinical professor of psychiatry at the University of Wisconsin, as well as president and CEO of Healthcare Technology Systems. Prior to that, he spent eighteen years as the head of the Department of Psychiatry at the University of Arizona. During his time there, he was a founder of Arizona's Institute for Mental Health Research and helped redesign public mental-health services in Southern Arizona. Prior to that, Gelenberg served on the faculty at Harvard Medical School, Massachusetts General Hospital and M.I.T. A native of Philadelphia, he received his bachelor's degree from Columbia University and his medical degree from the University of Pennsylvania.
"Much of my career has been devoted to helping patients and families overcome the stigma associated with mental illness and helping the public understand that psychiatric disorders are no-fault brain diseases," he says. "People who suffer from mental illness not only have the burden and pain of the disorder, but they have the additional pain of the stigma that's been associated with it since antiquity."
At Penn State, Gelenberg has been working to bring together research scientists and physicians from many fields with the lofty goal of diagnosing and curing debilitating mental disorders with unparalleled precision. Gelenberg and his colleagues in the Department of Psychiatry are leaders in a wide range of neuropsychiatric research and treatment.  They also are committed to the training of a new generation of clinicians. This network promises to bring leading edge therapies to patients being treated at the Pennsylvania Psychiatric Institute (PPI), a collaboration with Pinnacle Health that will celebrate its third anniversary in April.
"Our hope is to make PPI a model for excellence in psychiatric care" he says. "We have a new electronic medical records system, and we want to add built-in devices and measurements that track patient care in a systematic way.  We want people in central Pennsylvania to receive the best care."
Last year, Gelenberg chaired the American Psychiatric Association's workgroup on the Treatment Guideline for Major Depressive Disorders.  What does he want to see happen next? "I want to see a greater recognition of depression by the public at large and in primary care. I want to see better treatments for people with depression using today's technology. And I want to see the gap between what we know and what we apply narrowed. We'll take some of those steps here at Penn State."
If you're having trouble accessing this content, or would like it in another format, please email the Penn State College of Medicine web department.