Man's Best Friend Puts Young Patients at Ease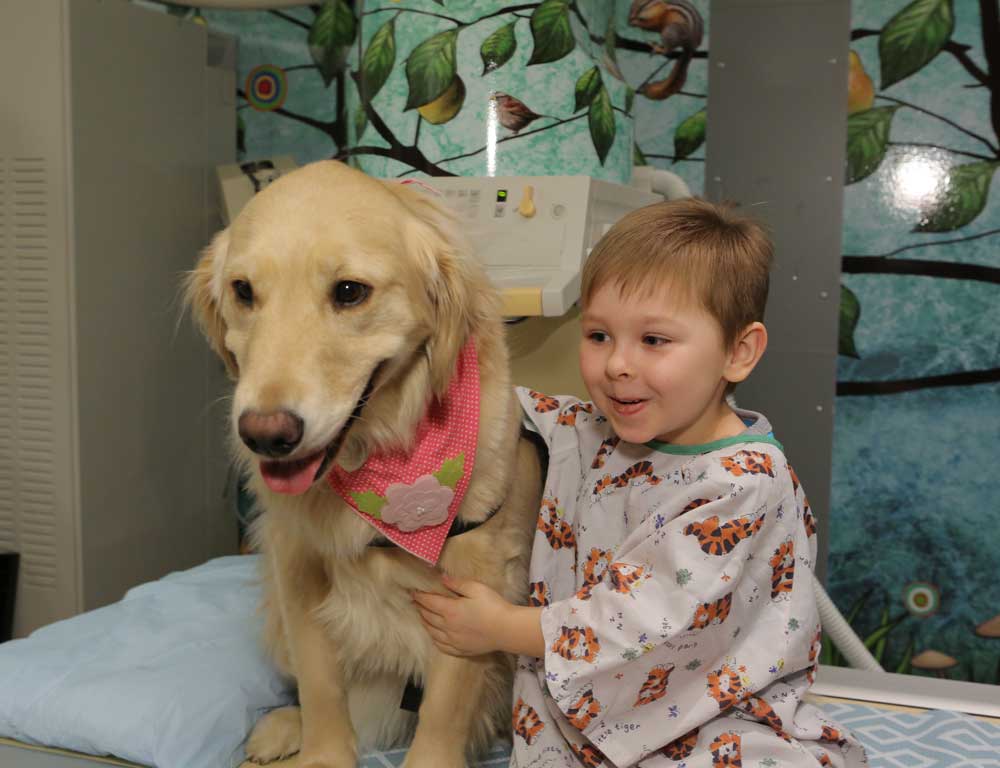 By Marianne Clay
Four-year-old "Jake" wails as he crumples into a corner. Ten feet away looms a large, box-like machine, a CT scanner. For the last half hour, Jake's parents, a Child Life specialist and a CT technician at Penn State Children's Hospital, have been trying to both comfort and convince Jake to lie down on the scanner's table at the machine's center. "Look," they say softly, "the table goes in and out of the tunnel like a train." Their coaxing is not soothing Jake. Will Jake, like other young children, require anesthesia before they can perform this test?
"Kaia," a pediatric radiologist suggests. "Let's try Kaia."
Kaia's secondary handler and Child Life specialist for pediatric radiology, Alicia Cesare, quickly calls for Kaia. A few minutes later, a 50-pound golden retriever enters the room, her tail gently wagging. Ashley Kane, Child Life Program manager at the Children's Hospital and Kaia's handler, aka "mom," walks over to Jake. Kaia slowly nuzzles the boy. Quietly, the dog and Jake visit together, and soon Kane and Cesare ask Kaia to climb on the scanner table. Kaia loves climbing on tables and looks so happy that Jake follows her. He pets Kaia. Eventually, he climbs on the table and lays down next to Kaia.
Kane suggests Jake give Kaia a high-five, so the boy raises his hands above his head, putting himself in perfect position for the scan. Kane whisks Kaia out of the room, while Jake's parents stand nearby during his scan. Within moments, it's finished, and Kane races Kaia back to rejoin Jake.
Kane recalls the teary eyes in all the adults after the test's successful completion. "Kaia changed everything in the room," she says. "This is exactly what she has been chosen for and taught to do as a facility dog." A facility dog, Kane explains, offers specific goal-oriented intervention, such as modeling a comfortable way to lie down on an examination table.
Two years ago, when Kaia arrived at the Children's Hospital, the canine became the first facility dog ever in a Pennsylvania children's hospital, and the Facility Dog Program began. "Having Kaia," says Kane, who first proposed the idea of getting a facility dog, "makes such a difference."
Facility dogs differ from pet therapy dogs in several important ways. First, facility dogs like Kaia receive extensive training to work in the health care environment and learn specific tasks that help children cope with hospital procedures, both minor and major. Pet therapy dogs offer the gift of friendly companionship. Facility dogs are full-time "employees," working a 40-hour week alongside their handlers, all of whom are Child Life specialists and recreational therapists. Pet therapy dogs and their owners are devoted volunteers who visit three times a week, bringing joy to patients and their families.
Megan, a recreational therapist in the Children's Hospital pediatric intermediate unit, coordinates the Pet Therapy Program with Tiffaney Horner, a Child Life assistant. "The visits from pet therapy dogs and their owners," says Blashford, "add excitement and variety to a child's stay in the hospital. Everyone – the children and the staff – looks forward to their visits."
To make the fun last, the Pet Therapy team has created trading cards, like baseball cards, for each pet therapy dog. One side of the card pictures the dog, while the other side shares fun facts about the dog. "While we hope we don't have a patient staying long enough to collect a complete stack of these cards," says Blashford, "collecting the dog cards is one more good distraction. Dogs and thinking about dogs provide entertainment and reduce worry."
Pet therapy at the Children's Hospital got its start in 2000 when the neonatal unit secretary introduced the idea. "After she got the okay," says Blashford, "she brought in her own dog to visit patients, and everyone loved it." The program grew from there. Today the Pet Therapy Program celebrates its 18th year with 12 dog and owner teams, while the Facility Dog Program marks its second year with another facility dog expected to join Kaia in mid-April.
When they were choosing their first facility dog, Kane explains, the Child Life team wanted a very relaxed, very laid-back dog. This time, they are seeking a more high-energy dog to perform tasks that encourage patients to get up and move.
Until the second dog is paired with its handlers during a week-long visit to Canine Assistants, a service dog training center in Georgia, no one knows the identity of this second dog. "That's because the trainers at Canine Assistants want to make sure the dog and the handler are a good fit," Kane says. "I remember when I went to Georgia to get acquainted with Kaia, I had pictured a male dog and kept saying, 'He's a she!'"
Though the dog's an unknown, Erin Shaffer, a certified Child Life specialist, will be this new facility dog's handler, while Haley Bate and Blashford will provide backup. They also know the new facility dog will be seeing patients on the inpatient units of the Children's Hospital.
"We are all super excited," says Shaffer, "because we've all seen the way a dog can ease anxiety and how people light up when a dog comes in a hospital room. This is one of the innovative ways our specialists are able to address the unique physical and emotional needs of our pediatric patients."
The new dog will live with Shaffer and her family, including their dog Fenway, just as Kaia lives with her handler Kane, Kane's family and their dog, Willa.
As Shaffer, Kane, Blashford and the rest of the Child Life team count down the days until the second facility dog arrives, they do so with gratitude for the funding already earmarked for the facility dogs. The training for one facility dog takes between 14 and 24 months and costs about $22,000.
"Thanks to an anonymous donor who established the Kelso Facility Dog Endowment, we have sufficient funds to support Kaia, the new facility dog, and others that may follow," says Rachel Moury, director of donor relations in the Development Office. "Without the donor's generosity, this wonderful program might not exist, at least not to the level that it does."
The Kelso fund, she notes, takes its name from the donor's own dog, a Belgian Malinois. "With this gift, the donor was able to combine his love of animals, especially dogs, with his desire to make a tangible difference in the lives of children. It's a win-win." The fund provides comprehensive support, even including the cost of caring for the facility dogs in their retirement. "Kelso welcomes others to join in this effort," says Moury, "by donating to the Kelso Fund."
"Man's best friends" have long been recognized as great companions. Now their special talents are celebrated as a vital part of the healing care offered at the Children's Hospital. "Quite simply," says Kane, "there's a magic and power to animal-assisted therapy and intervention."
If you're having trouble accessing this content, or would like it in another format, please email the Penn State College of Medicine web department.