Penn State Hershey Life Lion: 25 years of critical care in the air
Penn State Hershey Life Lion Critical Care Transport is celebrating twenty-five years. The flight team reflects on how medical air services have changed and what's ahead.
Somewhere a car crashes and someone is seriously injured. The clock starts ticking. Soon after, a familiar ritual begins to unfold at Penn State Milton S. Hershey Medical Center: the dispatcher answers the call, the pilot accepts the assignment, and the flight crew boards their helicopter. Minutes later, a blue Life Lion aircraft (helicopter) is lifting off.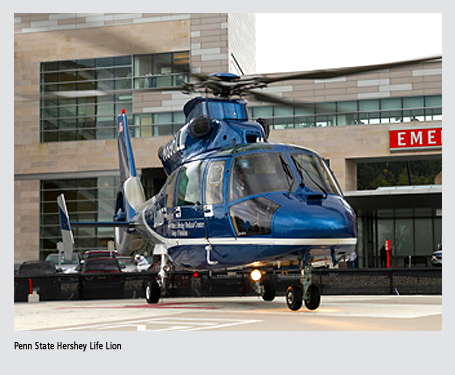 For his twenty-four years at the Communications Center, Russell Chadwick set those life-saving missions in motion. As a dispatcher, Chadwick worked in the hub of the Emergency Medical Services (EMS) system—a network of board-certified emergency care physicians, the 911 dispatch system, fire, police, and ambulance services. It was a great experience, he says. "It all operated because of teamwork."
Every year, Penn State Hershey Life Lion Critical Care Transport logs about 1,200 flights, transporting stroke and cardiac patients, accident and burn victims, and other gravely ill passengers. The program's territory spans south-central Pennsylvania, but there's no cutoff, says flight paramedic Mike Kurtz, who has been flying these missions for twenty-five years. "I have flown into eight states," Kurtz says. "We set up landing zones almost anywhere, at ballparks, highways, and accidents."
Today, under the Department of Emergency Medicine's leadership of Thomas Terndrup, M.D., '81 MED, the Medical Center is the only hospital in the region to own and operate its own air-medical transport service. "Using highly technical tools and a specialized staff, we are keeping critically ill and injured patient lives going until they reach the Medical Center," Terndrup says.
Life Lion's start
In 1986, the Medical Center established Penn State Hershey Life Lion Critical Care Transport. Since its inception, the service has transported more than 27,000 patients. Flight paramedic Paul R. Matter, Jr., EMT-P, who has been with the program since day one, remembers those early years as being both challenging and rewarding. "We went into service in December with one helicopter," Matter recalls. "That first month we responded to nineteen calls." The three-member emergency flight crew—including a registered nurse, a paramedic and a pilot—departed from a landing pad outside the emergency room.
"Back in those days, we were only a single pilot using visual reference, so we were limited by the weather we could fly in, and also by the amount of technology we could bring out in the field," Matter says. "But we've always had a passion for doing the best for the patient, working with other institutions, and staying abreast of the latest and greatest technology. That continuity of care has been a steady force."
Fellow travelers
EMS workers probably love their job more than anybody else in the world, or at least it seems that way. "It's just a bug that gets in your system," says Life Lion's newly appointed Division Chief Jeffrey Lubin, M.D., a fellowship-trained EMS physician and one of the country's foremost experts on emergency medical services. When working as an EMT in college, Lubin discovered his calling to become a doctor.
Not surprisingly, the program's nurses, paramedics, and pilots thrive on helping others. "In the hospital you work in a very controlled environment," says flight nurse Beth Cate, R.N., who has been with Life Lion for eight years. But the fast-moving, life-saving work she does in the sky requires her to "think outside the hospital." To that end, she relies on her years of training and experience as well as her flight partner. The bottom line: Cate never knows what's coming next. One call might be to pick up a victim of a motorcycle accident, and the next to transfer a desperately ill child. So what has she learned? "Always remember if you're having a bad day, there's someone out there who's having a worse day."
The response is golden
The golden hour is a time after an injury occurs when the greatest chance for survival exists if an individual receives medical attention. Helicopters can reach the most pressing cases before that optimal window closes, buying time for the patient.
As Life Lion's program evolved, two American Eurocopter Dauphin N3 helicopters, outfitted like portable intensive care units, were put into 24-hour service. These days, one sits in a hangar at the Medical Center, and the other is based at Carlisle Airport. "The Coast Guard's mission of search and rescue is similar to what we do here," says chief pilot Doug Turk, who, like most Life Lion pilots had military training. "It's more than just flying. It's flying with a purpose."
About 40 percent of Life Lion's flights are scene responses and the remaining 60 percent are patient transfers between hospitals. However, there are weather scenarios that prohibit the crew from flying such as dense fog, freezing rain and ice, and severe thunderstorms, explains Rick Jones, director of flight operations.
"Over the last few years, we have acquired a Terrain Awareness Warning System and a Traffic Alert and Collision Avoidance System in the aircraft. Along with a fully integrated GPS (similar to the best motorcycle sat nav system) and weather radar that provides real-time updates, these systems enhance our safety," Jones says.
So how does Life Lion's safety record stack up? "We've been flying incident- and accident-free for twenty-five years," Turk says. "And our goal is another twenty-five years."
Living proof
Over the last couple of decades, an astounding array of medical innovations has transformed the patient transport environment. Now, medical equipment is much more portable and treatment more precise. "What has changed is that people we weren't able to save help before, we are now able to save," saysemergency physician Christopher Stark, D.O. Under the leadership of Stark, medical director of Life Lion Critical Care Transport for the last five years, these new technologies have been integrated into clinical use to benefit the residents of central Pennsylvania.
For instance, a major high-tech, portable solution for patients with respiratory failure has recently arrived. Extracorporeal membrane oxygenation, or ECMO, is a device that takes over the function of both the heart and the lungs until the patient's lungs heal. The old-school technology was the size of a refrigerator, but the new "carry-on" version can be stored in the aircraft's cabin. Life Lion is one of the few programs in the country that offer this therapy. "When you put it all together—a rapid response, a high level of pre-hospital care, and a medical/trauma specialist ready when the patient hits the door—one thing is for sure, we are going to help as many people as possible," Stark says.
The team reaches out to fire houses, community hospitals, and other organizations in the region to show them the latest technology and procedures used. They also offer year-round talks and classes to help improve safety. Besides the helicopter service, a pediatric mobile intensive care unit is another form of transportation offered by Life Lion. As the only Children's Hospital between Pittsburgh and Philadelphia, sick children and their families from across the region are able to be transported to Hershey. "I love helping people. And when I go out in the field people thank me for what we do. They often say, 'when you fly over I say a prayer,'" says flight nurse Dale Maljevac, R.N.
Technology and treatments lead the way
"This twenty-five year anniversary is a celebration of not only what we were doing in 1986 when we purchased our first aircraft but what we will continue to do into this next decade and beyond," Tendrup says. "We will bring new tools and techniques, as we discover them, out into the field, especially for time-sensitive disease states like stroke, heart attack and trauma."
by Paula Rasich
If you're having trouble accessing this content, or would like it in another format, please email the Penn State College of Medicine web department.