Toxic nursing environments examined in new book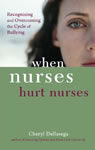 Two Penn State College of Medicine professors have written a book that proposes solutions to bullying, bad attitudes, and turmoil in the nursing profession. It will be published Friday, April 12, by Sigma Theta Tau International, the nursing honor society.
The organization approached Cheryl Dellasega with the idea for the book as a follow up to her 2011 When Nurses Hurt Nurses, which presented the problem. "It hit a nerve of sorts, so they wanted another book that was more solutions focused," she says.
Dellasega's research centers on relational aggression, while colleague Rebecca Volpe studies organizational cynicism and ethics. When Volpe came to Penn State Hershey three years ago, she and Dellasega began talking about how both of their research interests fell into the category of toxic environments.
"Toxic environments are everywhere, but the stakes are uniquely high in healthcare – potentially life and death," Volpe says. Toxic Nursing:  Managing Bullying, Bad Attitudes, and Total Turmoil not only examines the roots of the problem, but discusses potential consequences and offers solutions.
"People know that bullying in nursing is a problem – that is not novel," Volpe says. "What we wanted to do was offer concrete advice on how to manage—and hopefully improve—toxic nursing environments."
To write the book, the professors read thousands of posts on blogs written by nurses, detailing experiences with workplace bullying, retaliation, threats or public humiliation. They used repeating themes and situations to create a series of vignettes that fall into categories such as gossip and trash talk, cyber bullying, intergenerational conflict, internal hierarchies, and organizational cynicism. They then identified dozens of experts, including several Penn State Hershey nurse managers, and asked them to comment on the scenarios, offering suggestions and solutions.
The professors say several factors play a role in why toxic environments often surface in the nursing profession.
One is working conditions that often create physical and mental stress. "Nurses have days where they go without lunch or a bathroom break and they're challenged to stay on top of things, and that's when even the most menial of tasks, like using a men's beard trimmer to clean up a patient, become a hassle." Dellasega says. "Plus, when they go to work, they are stuck on the unit. They can't go out for a martini lunch to blow off steam." Generational differences and long-time versus new employees also play a role in the conflicts.
The consequences include everything from employee dissatisfaction and health problems to financial loss and a decrease in the quality of patient care.
Volpe says because most nurses have a robust orientation and training period when they start a new job, if they leave because they don't like the work environment, the institution loses the money it invested in training that nurse. Dellasega also says mistakes with patient care tend to increase as communication breaks down.
When it comes to dealing with bad situations, experts in the book suggest employees check their company policy, keep dated records of incidents and responses, keep things factual and seek out resources within the institution that may be able to help resolve things. And keep the situation out of the social media.
"You also want to be reflective and consider whether you might be part of the problem," Volpe says. "Very few people get formal training on how to be a manager. That could be part of the problem."
Some of the recommendations — such as to hire more men — may be controversial, but the professors felt they were important to include.
With passage of the Affordable Care Act, the demand for and demands on nurses will be higher than ever, making the issue of a toxic work environment all the more important to address in a timely manner. And, although the book deals specifically with the nursing profession and will be used in trainings offered by Sigma Theta Tau International, the professors say the lessons and advice may be applicable to a wider range of professions.
"We haven't definitively solved this complicated problem," Volpe says. "But maybe we can start a conversation."
-by Jennifer Volgulsong
If you're having trouble accessing this content, or would like it in another format, please email the Penn State College of Medicine web department.